Photos by Cristóbal Vivar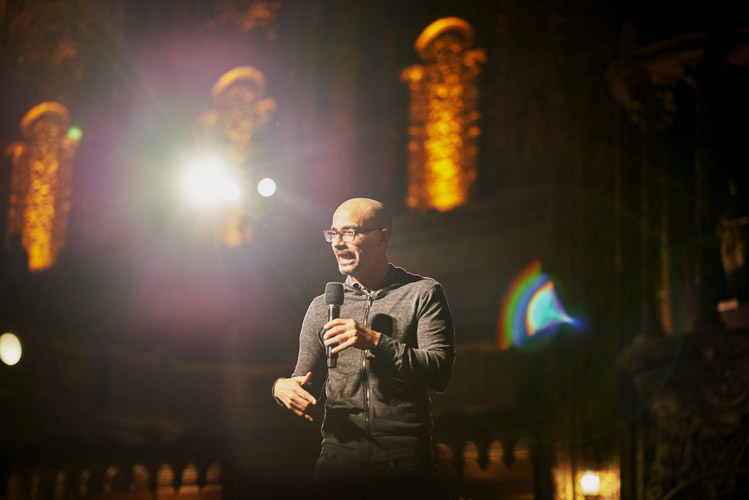 "I am pastelito con salchipapa."
The MacArthur Fellow and Pultizer Prize-winning writer almost got usurped by the beginners.
Before Junot Díaz took to the stage at the United Palace this past Fri., Apr. 13th, a few young poets took to the mic and shared original verses.
Those on and off the stage had flocked to the historic theater to mark the publication of Islandborn, Díaz's first children's book, which was released in March.
The picture book set in Washington Heights focuses on a young girl named Lola, who immigrated from the Dominican Republic and is unable to conjure images of the island she left as a baby.
The visit uptown marked Lola's first visit home since the book's release, and the audience was packed with enthusiastic parents, educators and mostly, hundreds and hundreds of rapt young readers.
Read more: Hola a Lola | Manhattan Times
Related:
Junot Díaz Opens Up About Being Sexually Molested As A Child
Junot Díaz talks shop uptown | Manhattan Times
The Future Is Ours – A Q&A With Junot Díaz
On Being: Junot Díaz Speaks About Radical Hope
Uptown Talk: The NYPL Podcast – Junot Diaz
The Platano Index: A Q&A With Junot Diaz
A Night Uptown With Junot Diaz
Led Black: Un Pie Aqui y Uno Alla | Huffington Post
We invite you to subscribe to the weekly Uptown Love newsletter, like our Facebook page and follow us on Twitter & Instagram or e-mail us at [email protected].