BY Led Black (@Led_Black)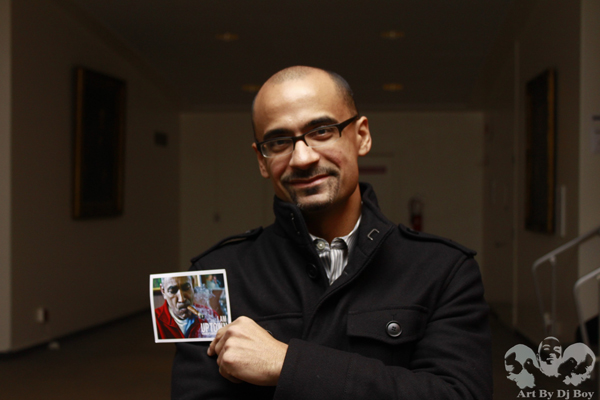 Junot Díaz is a Dominican superhero. A mild-mannered M.I.T. professor by day, he is a criollo caped crusader with the escudo emblazoned on his chest by night. For the last couple of decades, Junot has lovingly rendered the truths, trials and tribulations of the Dominican Diaspora. With mighty strokes from his pen, Junot has eternally etched the pain, power and profoundness of the Dominican experience onto the annals of literature. He literally put Dominican identity on the map.
Beyond the well-deserved awards and accolades, Junot Díaz is, ultimately, a man of the people. Someone who has not hesitated to speak truth to power – come what may. He is a shining example of the artist as activist. It is only fitting that the People's Theatre Project (PTP) will be honoring this erstwhile man of the people at the United Palace right here in Washington Heights on June 21st.
Junot took some time to talk to us about the work of the PTP, racism, immigration, activism and the Trump phenomenon. Please read the Q&A below and purchase your tickets to join the People's Theatre Project in honoring Pulitzer Prize winning author Junot Díaz and director of community pediatrics at the Columbia University Medical Center Dr. Dodi Meyer on what will be a very special night.
For more information and to purchase tickets visit www.PTP.nyc or call 646-398-9062.
Q. Since it's inception the People's Theatre Project (PTP) has been about bringing theater to the community. Why do you believe that is important?
Communities like ours have historically been under-served by arts organizations and when we're talking about the Heights there's no question that not enough of our young people have access to the performing arts. Theater is one of our oldest and most important art practices and it has the ability to open up a person, to change them, to give them hope knowledge and wisdom. Theater is the closest many of us come to sitting around a fire and listening to a storyteller—it links us to a very old and very necessary human need for collective narratives. As a form theater is extraordinary in encouraging introspection, deliberation, compassion, for engaging the full spectrum of our emotional selves and most significantly of all theater has historically been an excellent way to educate us in being human.
You don't have to look further than HAMILTON to understand the revolutionary impact theater can have. There are thousands of thousands of Lin-Manuel Miranda's in our community but because they haven't been given access to the tools we will never benefit from their genius. That's why PTP is so important—it helps those geniuses we have in our community come into their own.
Q. One of the recurring themes in their productions is the subject of gentrification, which is changing Washington Heights and so many other neighborhoods on a fundamental level. Do you think Washington Heights can resist that change and how?
Gentrification has already washed away many sectors of our community. The forces of global capital are difficult to combat under the best of conditions and uptown we're really up against it because many of our community and political leaders are in cahoots with the very forces that are destroying our communities. Unless there is a radical movement on every level to create and sustain affordable housing neighborhoods like ours are facing long odds. Folks who already own homes or who have cheap rents because of rent control will likely still be around but the vitality that currently defines the Heights probably won't be. It's the singular tragedy of our current economic arrangements: poor people and immigrant peoples make a world but then the elites take it away from us.
Q. My middle daughter Leila is a part of the PTP Teens program. Last year she wrote and performed a powerful monologue that blew me away that was all about Trump and the ugliness that he is fomenting. What are your thoughts on the Trump Phenomenon? 
What more is there to say? Trump embodies a tendency in US politics that has always been with us: a tendency that is pugnaciously nativist, racist, xenophobic, reactionary and white supremacist. The horrible irony is that the rage and dissatisfaction that has gripped many areas of the US has at its root cause the neo-liberal policies that demons like Trump are the prime movers and beneficiaries of. Sometimes the US leaves you speechless. Think about it: There is a plague stalking the land and instead of rooting out the plague bearers the population makes the chief plague bearer their king. That's Trump in an allegorical nutshell. His popularity speaks to how much easier it is for people to bet on a savior than to do the hard work that needs to be done to confront our problems. I do not expect Trump will win in November but I also believe we need to fight like hell to stop him. And Trump is only the first in a long series of white redeemer figures that will afflict us—white supremacy is not going to go down easy so we need to be prepared to fight if we don't all want to end up deported or stuck in prisons.
Q. Hatred of immigrants seems to be a winning platform. What do you think immigrants and their supporters have to do to combat that? 
Ultimately we have to just keep fighting on every front with all we got. Trump's nightmare vision of walls without end—walls which will not save anyone—must be replaced with what we really need to survive this rapidly disintegrating world: bridges without end. Unless we began to enact and embody radical solidarities the white walkers are going to devour us all and we cannot let that happen.
Q. Are we backsliding as far as race is concerned in this country?
White supremacy has never been weak but certainly the density of its current power can seem daunting. You only have to look at how white Hollywood or our statehouses are to understand the kind of supremacy we're up against. I teach dique the brightest students in the world and yet they come to me with so little knowledge of the hegemonic forces that have us by the throat. That's clearly no accident. But while white supremacy might be strong we are stronger still (though our strengths are of a different and better order). I do think that the white supremacist/neo-liberal axis has done tremendous harm to the gains our communities made before, during and after Civil Rights. But I am heartened by the activism that has emerged over the last few years and by the tremendous courage of our young people and by the increasing Woke levels of many of our peoples.
I don't think we're necessary backsliding but I do think the battle which was always hidden and only ever fully visible to those of us who were damaged by it most is now more in the open. And people of color are creating spaces and challenging white supremacy in ways that are making the Trumps of the world very upset. The rise of Trump is a testament to our rise as a colored nation. He thinks he can put us back in our "place" but that will never happen. Long term or short term, the future is ours.
Q. You took a valiant stance on the issue of the denationalization of Haitians of Dominican descent. Have you been surprised by the vitriol coming from fellow Dominicans? 
I don't think it was that valiant. Plenty of folks took the same stance but they live in the DR and were way more vulnerable to retaliation. Those are the real courageous sisters and brothers. But to your question: Sure I was shocked at the threats and the harassments but not too shocked, if that makes any sense? Don't forget I spent 11 years writing a novel about the legacy of the Trujillato, how his horror still lives inside of us Dominicans. Our elites after all still find it very easy to panic our community over the "Haitian question" — this is one of Trujillo's great legacies. But if you want the truth what surprised me more than anything was the amount of support that I received—how many people came out in solidarity. Viejitos who would write me notes, young people who would stop me in the street, families who shout out support to me from their cars—a couple of cats who were like "We don't agree with you but we support a hundred percent your right to say what you want to say" —all that was surprising and and truly inspiring. Why my love for the Dominican Republic continues undiminished despite all the madness of the past year is precisely because of folks like these who still believe in justice and democracy and in a real civic society.
Q. Speaking truth to power is something that you do not shy away from. Why it is imperative that artists and the arts continue to push, organize and agitate? 
Believe me I want to shy away from speaking anything to power—that shit ain't fun and I am as scared as anybody—but for some reason my conscience just doesn't not let me run. Maybe it's because when I was young all I did was run or maybe I'm just dumb as a brick—who knows? I cannot speak for other artists; all I know is that the day we all stand up against injustice is the day we're free. That simple. Might as well start rehearsing now, all of us, for that day when our unified standing up will change everything.
Q. Any final thoughts?
I hope the Mets win the pennant this year. I still miss Margot Restaurant. That's it, I guess. Thanks for taking the time, manito.
The People Storm the Palace promises to be a life-affirming night of art and inspiration. The annual benefit performance will feature social justice inspired performances by New Yorkers of all ages. VIP ticket holders will attend a pre-show cocktail party with silent auction and a chance to meet the honorees. Proceeds from the event will support People's Theatre Project's arts engagement programs.
Doors open at 7pm and the performance begins at 7:30pm on Tuesday, June 21 at The United Palace Theatre, 4140 Broadway. Ticket prices range from $10 – $250 and all kids are free. For more information and to purchase tickets visit www.PTP.nyc or call 646-398-9062.
People's Theatre Project presents
THE PEOPLE STORM THE PALACE
Annual Benefit Performance
HONORING:
Junot Díaz & Dr. Dodi Meyer
FEATURING:
Performance Highlights from the 2015-2016 Season of Community-Created Theatre
June 21, 2016 at 7:30pm
The United Palace Theatre
4140 Broadway (at 175th Street)
Purchase Tickets at www.PTP.nyc
EVENT SCHEDULE:
6:00pm: Exclusive Conversation with Junot Díaz  (VIP Plus Only)
6:30pm: Reception with Honorees (VIP & VIP Plus)
7:30pm: Performance (Doors Open 7pm)
TICKET INFO:
$250 – VIP Plus
Entry to Intimate Conversation with Junot Díaz
Entry to Pre-Show VIP Cocktail Reception
Reserved Seating to Benefit Performance
$100 – VIP
Entry to Pre-Show VIP Cocktail Reception
Reserved Seating to Benefit Performance
$10 – Adult General Admission
Entry to Benefit Performance
FREE – School Aged Kids
Entry to Benefit Performance
Purchase Tickets at www.PTP.nyc
EVENT SPONSORS:
NewYork-Presbyterian Hospital
New York Life
The Bizzarro Agency
L.A. Riverside Brokerage
Columbia University Medical Center
United Palace of Cultural Arts
Dyckman Beer
Manolo Tapas
WNYC Radio
The Uptown Collective
 We invite you to subscribe to the weekly Uptown Love newsletter, like our Facebook page and follow us on Twitter, or e-mail us at [email protected].