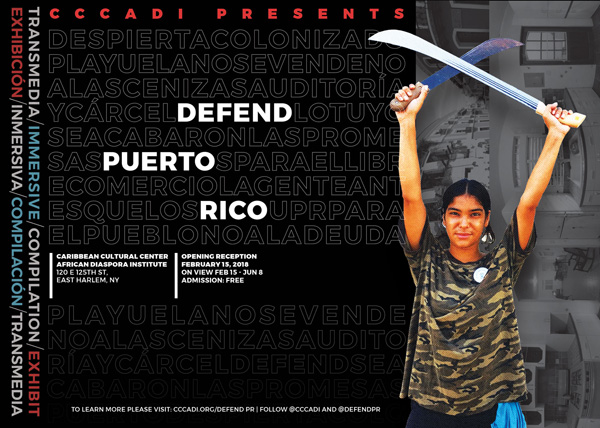 On Thursday, February 15th, in the spirit of resistance and resilience, you're invited to the opening of Defend PR, CCCADI's first art exhibit of 2018 at their new, historic Landmark location.
Curated by Mikey Cordero of the Defend PR project, the Defend PR Exhibit explores the creative documentation and stories told through the Defend Puerto Rico Transmedia project with a compilation of photography, video, design, and immersive media. An exhibit experience that guides the audience through the past, current, and future dialogue of Puerto Rican identity, culture, and diaspora relationships.
The Defend PR Exhibit is a 6-part exhibit consisting of a compilation of photography, video, design and immersive 360º media that provides the public with access to the current resistance movements and the artists who are documenting their voice and identity in the shadows of U.S. colonization and the current economic crisis.
The opening reception will debut the exhibition and will feature remarks by the project founders Mikey Cordero, Eli Jacobs-Fantauzzi and Adrian "Viajero" Roman.
For more info: Uptown Tonight: Defend Puerto Rico Exhibit | Opening Reception
Related: CCCADI Opens Doors to its New Historic Location
We invite you to subscribe to the weekly Uptown Love newsletter, like our Facebook page and follow us on Twitter & Instagram or e-mail us at [email protected].