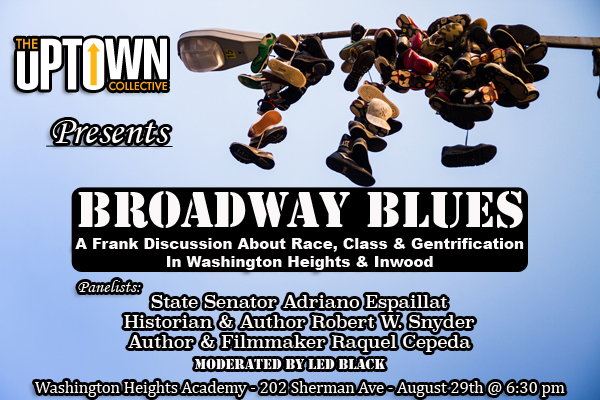 The Uptown Collective
Presents
Broadway Blues – A Frank Discussion About Race, Class & Gentrification In Washington Heights & Inwood
Monday, August 29th @ 6:30 PM
Washington Heights Academy – 202 Sherman Ave
Ft. State Senator Adriano Espaillat, Historian Robert W. Snyder & Writer Raquel Cepeda
Moderated by Led Black
The event is free but please RSVP here.
There is no denying that things are rapidly changing in our neighborhood. Some may argue that it is already too late. That the forces of predatory capital moving ever northward have their sights set on our beloved Washington Heights and Inwood and that there is nothing we can do. That some of this is actually a natural and welcomed part of life in New York City.
We disagree. We believe that we must make a stand now before our hood becomes just another shiny but soulless community that has closed its doors to the working people that gave those places life, vibrancy and diversity in the first place. To that end we have convened a panel of some really smart and dedicated people to discuss how we can together shape the trajectory of Manhattan's last real neighborhood. Please join us to ensure your voices are heard.
About the panelists:
Adriano Espaillat
State Senator Adriano Espaillat's career in public service has been marked by historic accomplishments and an unwavering commitment to integrity, justice, and equal representation for all.
Following a successful tenure in the New York State Assembly, Espaillat was elected to the Senate in November 2010, where he represents the 31st district. A trailblazing community activist, Senator Espaillat made history in 1996 when he became the first Dominican-American elected to a state legislature. Espaillat quickly distinguished himself as a reformer and progressive fighter who stood up for working families and small businesses.
Senator Espaillat is poised to make history once again this fall when it is believed that he will become the first Dominican-American in Congress.
Robert W. Snyder
Director of the Graduate Program in American Studies at Rutgers-Newark, Dr. Robert Snyder has worked since the 1980s with journalists, museum curators, and documentarians to share history with a broad public.
The author of several books, his latest book is the engaging and exhaustive Crossing Broadway: Washington Heights and the Promise of New York City.
His reviews and articles have been published in scholarly journals such as the Journal of Urban History, Journal of American History, Journalism and Reviews in American History and in general interest publications such as the New York Times, The Nation, the Columbia Journalism Review, the Jesuit  magazine America, the Jewish Forward, and the Star-Ledger of New Jersey. He has been interviewed by the New York Times, National Public Radio, WNJN, the History Channel, and the BBC on history, urban affairs and media issues.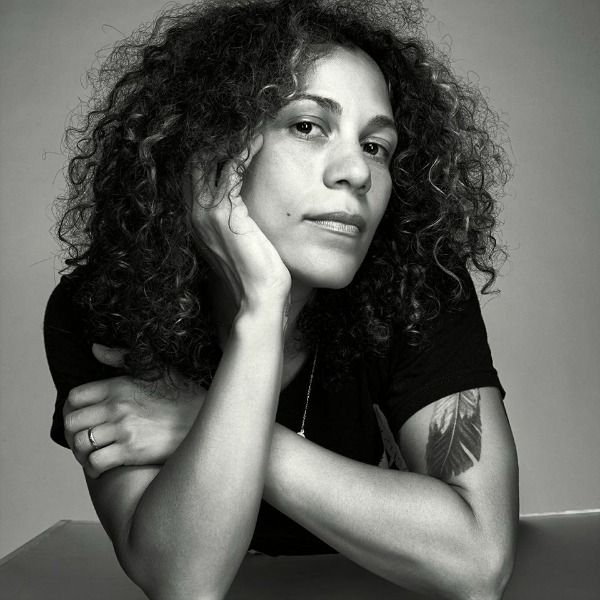 Raquel Cepeda
Born in Harlem to Dominican parents, award-winning journalist, cultural activist, podcaster, and documentary filmmaker Raquel Cepeda is the author of Bird of Paradise: How I Became Latina. Cepeda's next book, East of Broadway, is the story of one community in New York, the author's beloved Inwood, as seen through the lives of several of its inhabitants, as a way of shedding light on the impact of gentrification. Beacon Press will publish the book (2017).
Cepeda is currently in post-production on Some Girls, a documentary focusing on a group of troubled Latinx teenage girls in a suicide prevention program who are transformed through an exploration of their roots via the use of ancestral DNA testing.
Cepeda is the co-founder of Our National Conversation About Conversations About Race with authors Baratunde Thurston and Tanner Colby. The podcast, also known as ABOUT RACE, debuted in late March 2015 as part of The Slate Group's new Panoply Network.
Cepeda directed and produced the NAMIC (National Association for Multi-ethnicity In Communications) Vision nominated film Bling: A Planet Rock, a feature length documentary about American hip-hop culture's obsession with diamonds and all of its social trappings, and how the infatuation with "blinging" became intertwined in Sierra Leone's decade long conflict. The film was co-produced by VH1/MTV Networks and the United Nations Development Programme (UNDP).
For almost two decades, Cepeda's writings have been widely anthologized and her byline has been featured in media outlets including The New York Times, People, the Associated Press, The Village Voice, MTV News, CNN.com, and many others. She's contributed to WNYC, CNN and CNN's Inside the Middle East as a freelance reporter. Cepeda edited the critically acclaimed anthology And It Don't Stop: The Best Hip-Hop Journalism of the Last 25 Years, winner of the PEN/Beyond Margins and Latino Book Award.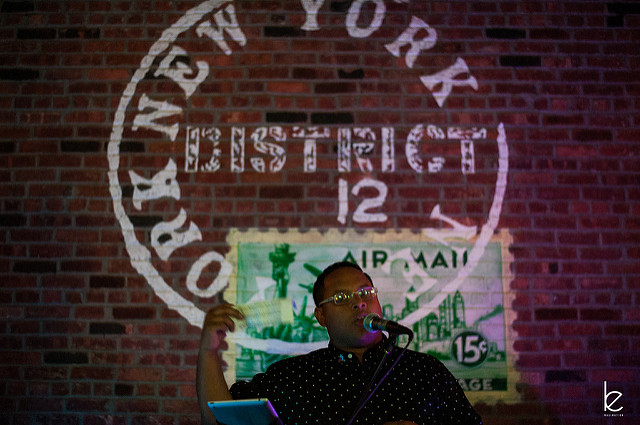 Led Black
Led Black is Dominican-American writer, blogger, filmmaker and entrepreneur who grew up in Washington Heights. In addition to owning and running the Uptown Collective, Led Black is working on his first documentary Nutcracker Inc., which is a left-of-center documentary on the street cocktail and the neighborhood that gave birth to it. Led Black's work has appeared on CNN, Huffington Post, Remezcla and many other outlets.
RSVP: 08/29/16: Broadway Blues – A Frank Discussion About Race, Class & Gentrification In Washington Heights & Inwood
We invite you to subscribe to the weekly Uptown Love newsletter, like our Facebook page and follow us on Twitter & Instagram or e-mail us at [email protected].