BY Emmanuel Abreu (@EAbreuVisuals)
The 2014 World Maker's Faire was exactly as it was described on its website, "a festival of invention, creativity and resourcefulness." I heard about it online and through a friend Jennifer Leech, who was selling her own really cool crafts there that weekend. Jennifer is a Washington Heights resident, and a fellow volunteer at Word Up Community Bookshop.
In order to get to the event I had to take the 7 Train, which just "happened" to be under construction that weekend, you know, because that is New York for you. So it took me more than 2 hours to get there (after three trains and two shuttle buses) and by the time I got there I pretty much had to leave to head back to the heights for People's Theatre Project's "Eddie's Perejil: A Night of Art and Dialogue". In total, I only spent about 30 minutes there, 10 of which I ran around looking for where to register as media.
Finally getting into the event, I visit Jennifer's booth and proceed to taking photos and covering as much ground as I could. I really wish I could have stayed longer. There were robotics, 3D printing, crafts, welding, Legos, electronics and so much more. The best thing about this was seeing all the kids smiling and getting really excited about everything around them. I didn't get to speak to many presenters at all, but one stood out because of what they offered, and because again, I was only there for 30 minutes. They are called Triple Cities Makerspace and they have a huge space in Binghamton, NY where they provide a place for "hackers, makers, artists, creatives, geeks, and technology enthusiasts" to learn, teach, and work.
Another table I only got to skim by but really loved was the "toys" designed by Anthony Campusano's.  He had some really cool crafts and small objects I could definitely see decorating my place.
There were some fun 3D printed toys and objects all around, a giant popcorn machine, and a couple of electronic welding stations for adults and kids. I hope to attend the next one for way longer so I can actually experience more. Even though it was a quick visit, I definitely recommend anyone who is interested in any of the above to visit the next time around.
Side note: I loved that the restaurants and other businesses on the way there, which seemed to be mostly Latino-owned, received a huge wave of foot traffic and patronage.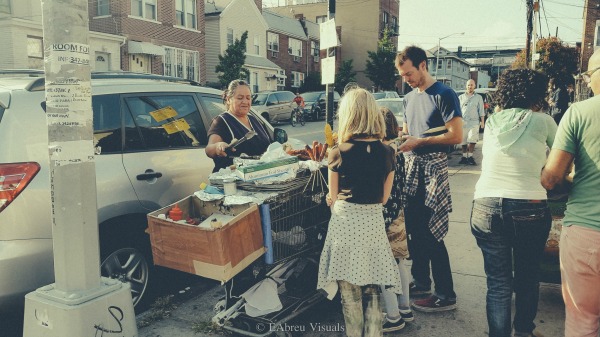 Emmanuel Abreu reporting for the Uptown Collective, Signing out. lol
Click here to see all the pics from the 2014 World Maker's Faire.
Related:
Todos Somos Trayvon – Uptown Stands Up For Trayvon Martin
July 4th in the Heights – The Recap
Drums Along the Hudson 2012 – Art By Dj Boy Edition
The 2012 Little Red Lighthouse Festival In Pictures
We invite you to subscribe to the weekly Uptown Love newsletter, like our Facebook page and follow us on Twitter, or e-mail us at [email protected].