This article was originally published in Edible Manhattan.

By Marissa Finn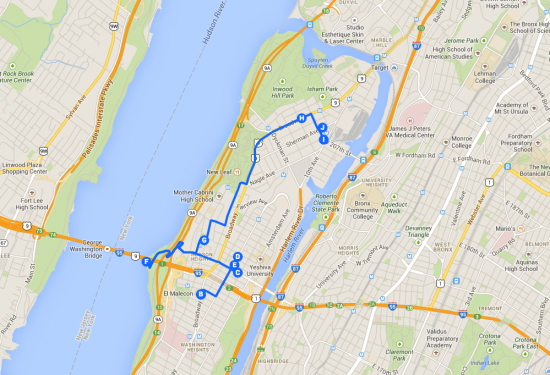 There's no shortage of tacos or tamales here in New York, but when's the last time you had a heaping plate of mangu or a slice of bizcocho Dominicano?
By combining Spanish, African and Middle Eastern influences with the foods of the island's indigenous Taino population, Dominicans have developed a complex cuisine that should be explored. In New York City, there are more native Dominicans than any other immigrant group, which means that right here in Manhattan, there's ample opportunity to savor many of the Dominican Republic's traditional dishes.
To celebrate the foods and the history of Little Dominica, I created a self-guided tour of restaurants, bakeries, supermarkets and historical landmarks in Washington Heights and Inwood (WaHI). Home to nearly 100,000 Dominicans, WaHI is the largest place north of Santo Domingo to get a taste of what the DR has to offer.
The tour includes roughly 3.5 miles of walking (this can be modified to be anywhere from 3 to 5 miles) and takes 3-4 hours. It works great with small groups, and I'd recommend sharing food and drinks at every location, so travel with hungry friends you know well enough to share soup with. And remember: this food tour is a marathon, not a sprint – if you overdo it on the longaniza at stop one, you'll never be able to handle the tres leches at stop nine.
Below, find the details of the tour, including directions, historical information about each location and what to eat. For a mobile version of the itinerary with audio and directions, click here.
Stop 1: Malecon
4141 Broadway
When they were in their teens, brothers Pablo and Javier Gomez opened Malecon as a way to share down home family cooking with the growing Dominican neighborhood. Twenty-eight years later, the restaurant has become renowned for its garlicky roast chicken and fresh Dominican flavors.
What to order: Share an order of Cuatro Golpes, a typical Dominican breakfast that literally translates to "four hits." The dish is based on mangu (boiled green plantains, mashed) served with four sides – huevos (fried eggs), salchichon (Dominican salami), longaniza (Spanish sausage) and queso frito (the best fried cheese you will ever have). To brighten it up, order morir soñando (literally die dreaming), a breakfast drink made with orange juice and milk that tastes like childhood summers on la playa.
Check out: El Malecon – A Dominican Cuisine Machine
Stop 2: United Palace
4140 Broadway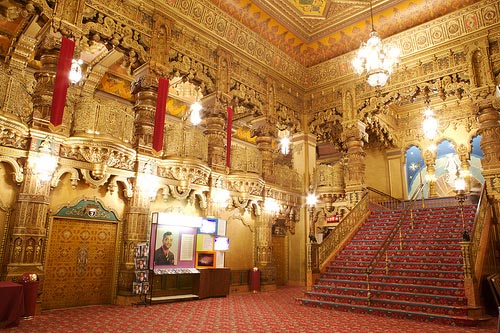 Directly across from Malecon is United Palace, a theater and cathedral that has been in Washington Heights for nearly a century. The theater is a neighborhood gem: incredibly ornate, with a neoclassical exterior, tall gold-lined ceilings, and 3,400 seats, making it the third largest theater in Manhattan after Madison Square Garden and Radio City Music Hall. The theater offers church services, community arts programs and big-name concerts like Adele and Neil Young. It is open to the community and is a common meeting place for locals in the neighborhood.
Stop 3: Esmeralda Bakery
538 W. 181st St.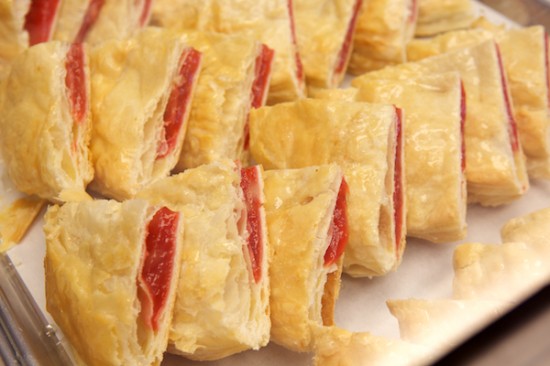 Walk north a few blocks and you'll hit 181st Street, a cultural hub that can be likened to Chinatown's Canal Street or El Barrio's 116th Street. Walk east towards Audobon Avenue, taking in the bustling street culture and the Latin music blaring from storefronts. On the corner of 181st and Audobon is Esmeraldo Bakery, an unassuming corner shop. If the line isn't stretched out the door, chances are you'll still need to push your way in, as Esmeraldo has the capacity to hold no more than six or so people.
What to order: It's easy to go overboard on baked goods, but engage every bit of willpower to order just a few – your stomach will thank you later. You must try the bizcocho dominicano (Dominican cake), a simple white cake filled with pineapple jam and topped with suspiro (meringue frosting). Front and center in the display case are pastelitos de guayaba (guava pastries), flaky puff pastries filled with guava paste with or without cheese. To drink, order my favorite item of the tour: avena, a warm, rich breakfast drink made of oats, milk, sugar, cinnamon, and lemon zest.
Stop 4: Tu Pais Supermarket
1464 St. Nicholas Ave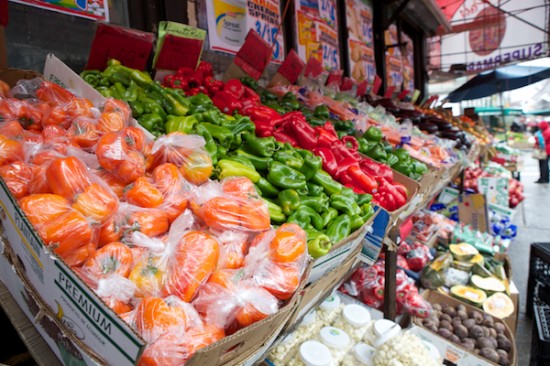 There are few better ways to learn about a culture's foodways than by stepping into one of their supermarkets. A few blocks north of 181st Street, Tu Pais is at the center of Little Dominica. A colorful assortment of produce lines the market's sidewalk, including varieties you'd rarely find downtown, like cactus, sugar cane, yucca, and chayote. Throughout Tu Pais, take note of the abundance of habichuelas (beans – both dried and canned) and arroz (rice). Dominicans cuisine is nose-to-tail cuisine, and the butcher counter at Tu Pais reflects this.
What to purchase:  If there's a particular Dominican dish you'd want to recreate at home, this is the place to purchase ingredients, but only buy items you won't mind carrying around for the next few hours.
Stop 5: Food Carts – Magaly Chicharrones and Habichuelas Con Dulce
182nd Street and St. Nicholas Ave.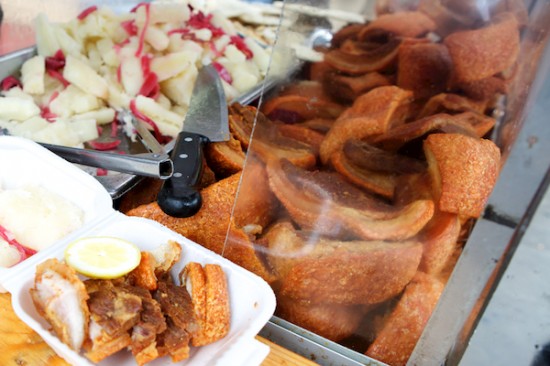 Backtrack a few blocks down St. Nicholas for your next stop. Observe the street culture along the way, as it is a critical part of life in Washington Heights. Throughout all four seasons and seven days a week, men and women set up shop on the sidewalk and sell household items, clothing, food and drinks. At the corner of 182nd, you'll see several food trucks, carts and stands selling a great variety of Dominican street food.
What to order: If you're craving something savory, head to Magaly Chicharrones, a small cart adorned with the Dominican flag. For five dollars, you'll get a heaping pile of chicharrones (fried pork rinds) that will be cut to order. They are served alongside boiled yucca – a staple Dominican starch – and topped with a lemon wedge. If you'd prefer something sweet, stop at one of the habichuelas con dulces tables. For one dollar, you'll get a cup of this sweet soup made of red beans, milk, and warm spices like cinnamon, nutmeg and cloves.
Stop 6: Jeffrey's Hook Lighthouse
In Fort Washington Park, under the GW Bridge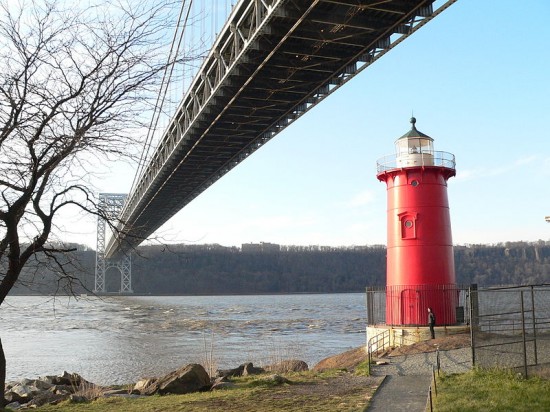 If you're up for the walk, take your street food on the road and eat it during a mile-long stroll towards the Jeffrey's Hook Lighthouse. Follow the directions closely here, as it is easy to get lost along the windy path. Notice how the neighborhood changes as you cross Broadway: the Spanish street signs and mom-and-pop shops disappear, and Starbucks, Thai restaurants and high-end wine shops take their place.
Originally constructed in Sandy Hook, NJ, the lighthouse was moved to its current location on the Hudson in 1921 to help boaters navigate the water. The only remaining lighthouse in Manhattan, it is seen as a welcoming landmark – not unlike the Statue of Liberty – that exists to safely bring people home. When the GW Bridge was built in 1931, it began to overshadow the small, once-important lighthouse. A famous 1947 children's book called The Little Red Lighthouse and the Great Gray Bridge tells the story of the two landmarks.
Check out: The Little Red Lighthouse In Pictures
Stop 7: Dyckman Farmhouse
4881 Broadway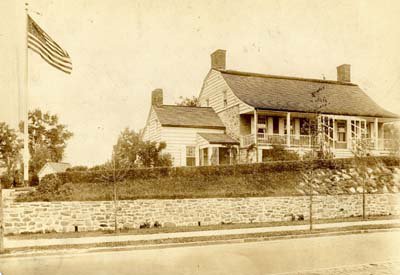 To get to the next location, you can either take the A train three stops from 181st Street to 207th Street or walk two and a half miles north towards Inwood. Either way, consider a brief stop along the way at Bennett Park, the highest point in Manhattan and the site where George Washington stopped the advance of British troops during the Revolutionary War. If you choose to walk, notice the massive hills and parks that make WaHI unique.
The seventh stop is Dyckman Farmhouse, the last remaining farmhouse in Manhattan. The house was built around 1784 on a 250-acre rural plot of land. As the neighborhood changed and the city developed, much of the land was lost or sold, but the Dyckman family bought the property in 1915 and opened the Dyckman Farmhouse as a museum in 1916. Though small renovations have been made, the farmhouse mostly remains as it was a century ago, a rare preservation of New York's agricultural past.
Stop 8: El Lina
500 W. 207th St.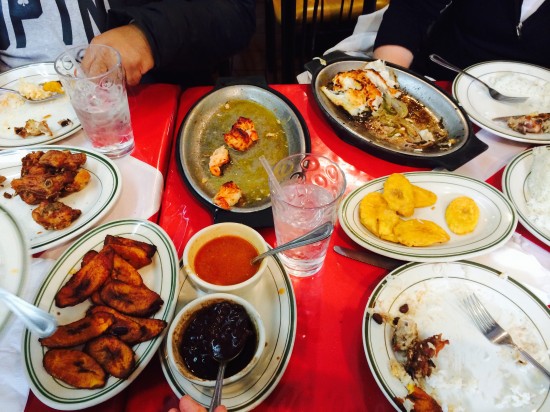 After a few miles of walking, you've hopefully worked up an appetite for a serious lunch. A few blocks south of the farmhouse is El Lina, a Dominican diner that's popular among locals. Led Black, editor of Uptown Collective, writes, "This is where Joe Public, or better yet Pablo Pueblo, eats, and unsurprisingly so." The Quezada brothers opened El Lina nearly three decades ago as an offshoot of the family restaurant in Santiago. Though the food and décor remain the same, they have made one upgrade: the jukebox, a super sleek restaurant centerpiece that blasts Latin music throughout the day.
What to order: This is the place to feast on staple Dominican fare. El Lina specializes in seafood, and I'd recommend the camarones al horno, a sizzling platter of garlicky, buttery shrimp. Their chicharrones de pollo (fried chicken) is well seasoned and crunchy – the kind of chicken that makes you want to fight the bone for every last piece of meat. The highlight of the meal is the array of side dishes. Order tostones (savory twice-fried green plantains), maduros (sweet fried yellow plantains) and arroz con habichuelas (rice and beans). It all goes down easier with a Presidente (Dominican beer) and a café con leche.
Check out: El Lina: The Best Little Dominican Restaurant in Washington Heights
Stop 9: Bizcocho de Colores
241 Sherman Ave.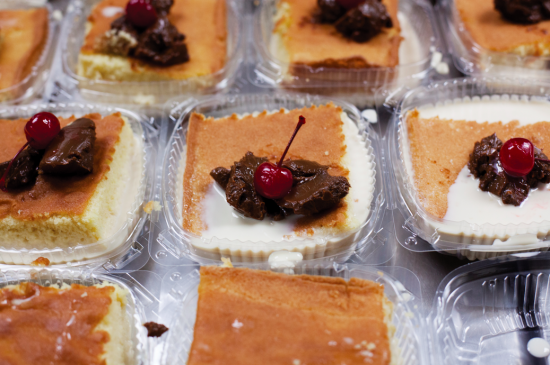 Daisy Lebron started baking for the Inwood community when she moved from the Dominican Republic in 1982. She opened her first storefront in 1999, and when she added tres leches to the menu in 2001, her cakes became an instant neighborhood hit. She now sells her tres leches and other baked goods at her shop on Sherman Ave., and she uses her original recipe to create extravagant custom cakes for special occasions. Read our story about Bizcocho de Colores here.
What to order: You must get an order of tres leches (literally three milks). To the heavy cream, evaporated milk and sweetened condensed milk in a traditional tres leches, Daisy adds whipped cream, rum and vanilla to create an intense, pudding-like cake.
Photo Credits: Clay Williams, Dyckman Farmhouse, Elizabeth Lietzell
A special thanks to Jennifer Berg, Led Black, Jeff Bush, Pablo Gomez, Leo Legaspi, Marissa Wolkenberg
via: A Self-Guided Dominican Food Tour of Washington Heights & Inwood | Edible Manhattan
Related:
El Lina: The Best Little Dominican Restaurant in Washington Heights
El Malecon – A Dominican Cuisine Machine
Uptown Eats: The Best Cuban Sandwich In Washington Heights…
Rusty Mackerel: Food Magic Happens Here
Uptown Gem – The New Leaf Restaurant & Bar
We invite you to subscribe to the weekly Uptown Love newsletter, like our Facebook page and follow us on Twitter, or e-mail us at [email protected].