Words by Mike Fitelson  (@MikeFitelson)
Photography by Art By Dj Boy (@ArtByDjBoy)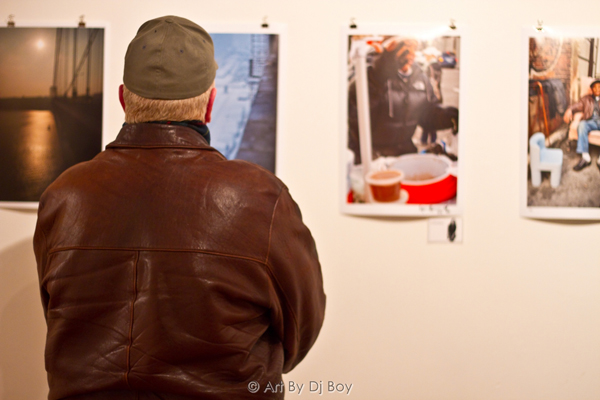 Still floating on air from the opening of "Northern Manhattan as Muse," too pleased to pinch myself and wake up from the high, I keep returning to something that was repeated over and over last night, the greatest compliment-complaint a host can hear: "I'm having a great time but I'm going to have to come back because it's too crowded to see the art."
It was that kind of night uptown.
Let's start with the fact that somewhere around 325 residents from this community, which itself is comprised of so many different communities, can find something in common that is so compelling that they will brave the cold to all experience it at the same time.
Now let's remind ourselves what it was that brought everyone together: art.
A few years ago, who could have imagined hundreds of Dominican-Professional-Young-Jewish-Irish-Parents-White-MiddleAged-BlueCollar-PuertoRican-Senior-Russian-Twentysomething locals living in Washington Heights and Inwood collectively climbing two flights of stairs in a Lutheran church/community center to cram into several rooms and hallways for the sole purpose of viewing photographs, paintings, videos, and other artistic endeavors.
There was such a good vibe that people stayed long after the food and wine ran out.
I think it's because attendees learned something about this neighborhood and discovered a part of themselves in the art on the walls.
Individually, the artists whose work makes up "Muse" have each spent many years thinking about what it means to live uptown. The diversity of the artists' backgrounds is matched by the diversity of their artistic practices. You could look at Tony Serio's painting and see yourself biking through Fort Washington Park, or hear Frankie P's tune and remember your own hazy night in the Heights, or see the portrait of Michael Diaz and relive your last cup of coffee at Malecon. This community-oriented tone was set when you reached the top of the cold, stone stairs and saw Dister's mural declaring "I ♥ My Hood."
Many attendees were deeply moved by the group show of photographs from NYC SALT teens in the back room. The youngest artists in the exhibit made some of the strongest connections with the audience. That probably says everything you need to know about what the role of art should be in anybody's life.
If you were there, you likely felt the same community pride that I did, watching all the faces of folks who don't necessarily look like you sharing the same moment.
If you did attend last night, if you invited your circles to attend via word-of-mouth, email, or tweet, I thank you. You played a part in reminding us of who we are and where we live. Thanks also to Carla Zanoni of DNAinfo, Led Black and DJ Boy of the Uptown Collective, and of course Gloria Pazmino and the Manhattan Times for publishing stories about the opening.
If you couldn't make it last night – or couldn't see the artwork for the crowd – please stop by when you can. The exhibit is open during business hours on weekdays through Fri., Feb. 10. Many of the artists will return on Wed., Jan. 18 for an artist talk from 6-8 p.m.
If you know me at all then you know that by the time we left NoMAA last night and arrived at Apt. 78 for the after party the "What Comes Next?" discussion had already begun.
Long term, there is a movie theater to save. Medium term there is the 10th annual Uptown Arts Stroll to plan. Short term there are burned-out business owners in Inwood to rally around.
And of course I'm fixating on what to do with "Northern Manhattan as Muse."
As long as it is at NoMAA we'll invite special groups to visit – from seniors and students to potential art funders and donors. After February 10, we'll figure out how to take in on the road to show downtown what's happening uptown. Props to Oscar Martinez – you might know him as "O" from "Pan Con Queso" – who suggested mounting it at hotels to help lure tourists uptown.
The "Muse" project will also grow as I continue to seek locals who have made significant artistic statements about Northern Manhattan. I've already started a list of names.
There is a lot to digest from last night, a lot of moments to process. As I, as we, consider "What Comes Next?" I am going to hold onto a single word from the opening, spoken by a wide-eyed David Hunt, Inwood native and co-owner of Coogan's Restaurant, who has seen just about everything there is to be seen uptown.
He said: "Groundbreaking."
Check out:
Blog: http://mikefitelson.com/blog/
FB: http://facebook.com/pages/Mike-Fitelson-Photography/
Twitter: (@MikeFitelson)
We invite you to like our Facebook page and follow us on Twitter, or e-mail us at UptownCollective@gmail.com.