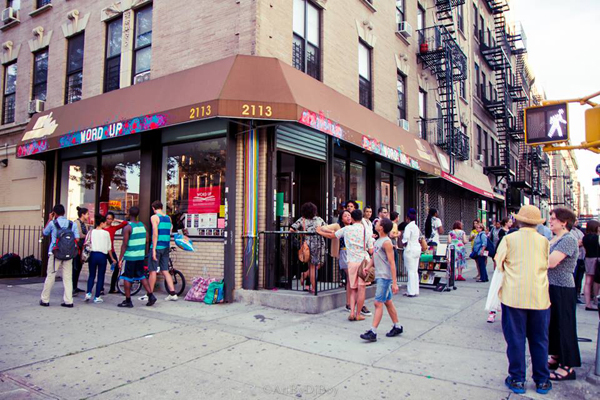 A Word From Word Up Books
Help us remain closed and healthy as an organization, until we can safely and responsibly reopen for our community!
In June 2020, Word Up Community Bookshop/Librería Comunitaria will celebrate its ninth birthday. Since our beginnings as a pop-up shop, Word Up has become a fixture for literature, art, education, and social justice in Northern Manhattan, and a unique model for community spaces around the world. Thanks to your support over the last nine years, we currently have two salaried full-time staff members and one part-time salaried staff member to coordinate our 60-person-strong volunteer collective and community-based activities. We have received some government and neighborhood relief funding, which helps us in the immediate future, and we will be able to cover staff salaries and occupancy expenses through the end of this month. But, beyond that: Because we are in a zip code that has been hard hit by the virus, and in the hardest-hit city in the world, things are a little less clear, and we want to plan responsibly. And so we are turning to you, our supporters.
Word Up closed its doors to the public on March 13, earlier than most if not all other bookshops in the city. We did so with the knowledge that our revenue would immediately drop, but that our community would be safer. With our Washington Heights neighborhood as the epicenter of some of the first cases in New York City, we felt the responsibility both to close as quickly as we could, while safely offering whatever services we could.
On the ground, our volunteer corps has spent time helping individuals and organizations whose constituents are facing immediate material needs. We were able to move some major events online, and our online book sales are higher than ever thanks to your support. But we are still facing significant losses without our usual sales from in-store and offsite events, like school book fairs and literary conferences throughout the city where we have been booksellers for years. While we have a mix of income streams, earned income from book sales is our highest.
We are asking for your contributions now so that we can remain safely closed and healthy as an organization until we can responsibly reopen. We want to do right by our community by staying closed for as long as needed, to protect our volunteers and our customers.
Support Here: Go Fund Me Spotlight: Word Up Books
We invite you to subscribe to the weekly Uptown Love newsletter, like our Facebook page and follow us on Twitter & Instagram or e-mail us at [email protected].