By Sherry Mazzocchi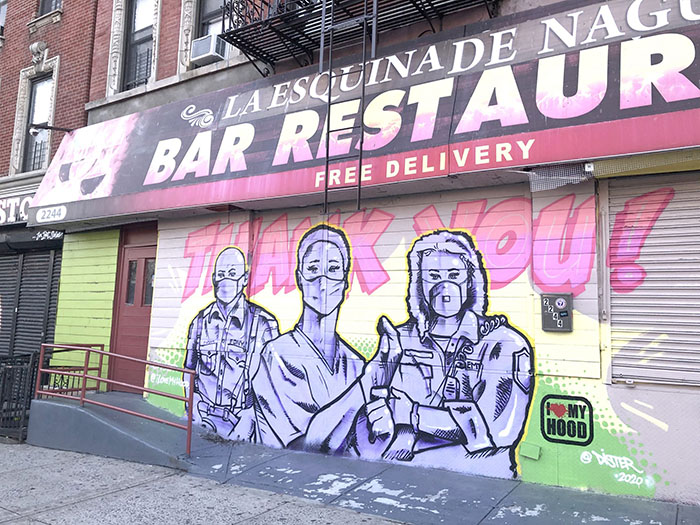 Washington Heights has a new way to say thank you to the ever-so necessary first responders.
A new mural at 2244 Amsterdam Avenue popped up almost overnight. Created by local artist DISTER Rondon, the bright multi-colored artwork is a tribute to people who keep New Yorkers safe, and lately, the whole city from careening out of control.
Three people are depicted from the waist up. At one end, a female Emergency Medical Technician, is ready for anything with her sleeves rolled up. On the other end, a fireman stands by. In the center, a nurse in scrubs slaps on surgical gloves. Emblazoned behind them is a big "Thank You." All masked, they gaze back confidently at the viewer, as if to say, "We got you, New York. And we're going to kick some ass."
DISTER Rondon is the artist's chosen pseudonym, and while he shines a spotlight on others, he steers clear of being photographed.
DISTER's work has graced the walls of Washington Heights for years, with loving tributes to people, musicians, and especially children, all soaked in vibrant colors and imbued with hip hop energy. His style is instantly recognizable and bears his trademark, I Love My Hood.
DISTER, a prolific visual artist, is also a director, choreographer and dancer.
He works exclusively in spray paint. "That's the medium that I grew up using as an artist," he said. "And also for cultural reasons. When people see detail done by a spray can it's accredited to specifically and only to the hip hop community and the culture. Hip Hop didn't invent anything but it reinvented everything."
Read more: Passion in the Paint | Manhattan Times
We invite you to subscribe to the weekly Uptown Love newsletter, like our Facebook page and follow us on Twitter & Instagram or e-mail us at UptownCollective@gmail.com.