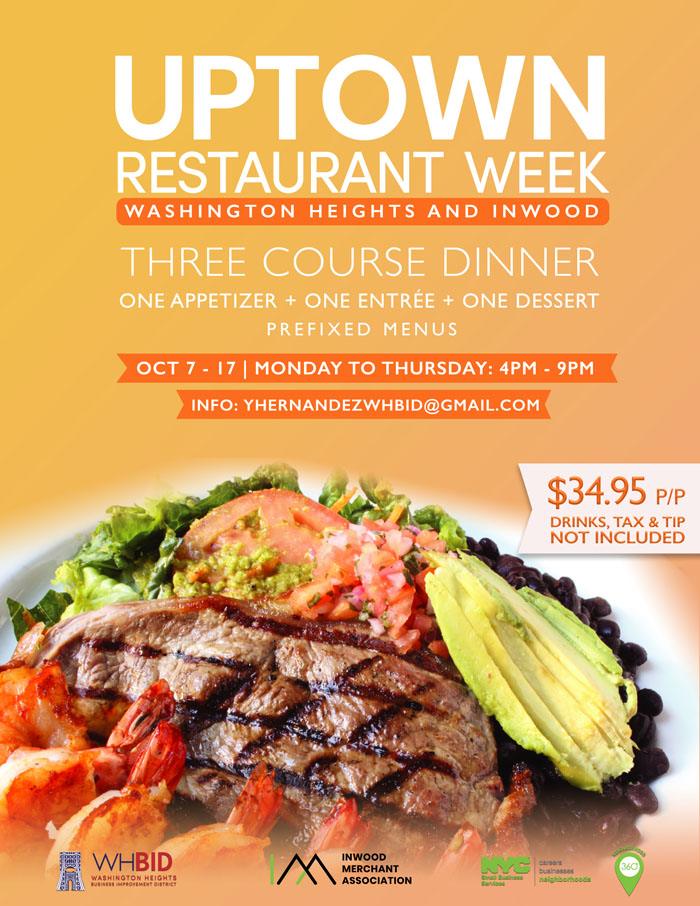 Mark your calendars familia; Uptown Restaurant Week takes place October 7 to the 17. On Mondays thru Thursdays from 4 to 9 pm during that time you can enjoy a spectacular three-course dinner at any of the many fine restaurants that are participating this year. So don't sleep, make your list of establishments that you want to hit up now so when the time comes you are ready.
You already know the motto, Spread Love It's The Uptown Way!
Participating Restaurants: 10th Avenue, Beans and Vines, Biscocho De Colores, Bocaditos Bistro, Bodega's Pizza, Brasier Restaurant, Brown Sugar, Burgos Restaurant, Cafe Buunni, Cañave, Chinito Latino, Cocina Taller, Dos Mares, Dyckman Bar, El Conuco, El Jefe, Floridita, Fort Tryon Pub House, Grandpa's Pizza, Grito Mexican Grill, Il Sole Restaurant, Indian Road Cafe, Inwood Bar and Grill, La Casa del Mofongo & Piano Bar (207th ST), La Nueva España, Locksmith Bar, Lucky Seven, Made in Mexico, Mamajuana, Mamasushi, Marisco Centro, Ñapa Steak and Seafood, Papasito, Pat'e Palo, Pop and Pour, Punto de Sabor, Republica, Seawalk, Taco Inn, Tannant, Tipico Dominicano, Wahizza
We invite you to subscribe to the weekly Uptown Love newsletter, like our Facebook page and follow us on Twitter & Instagram or e-mail us at [email protected].