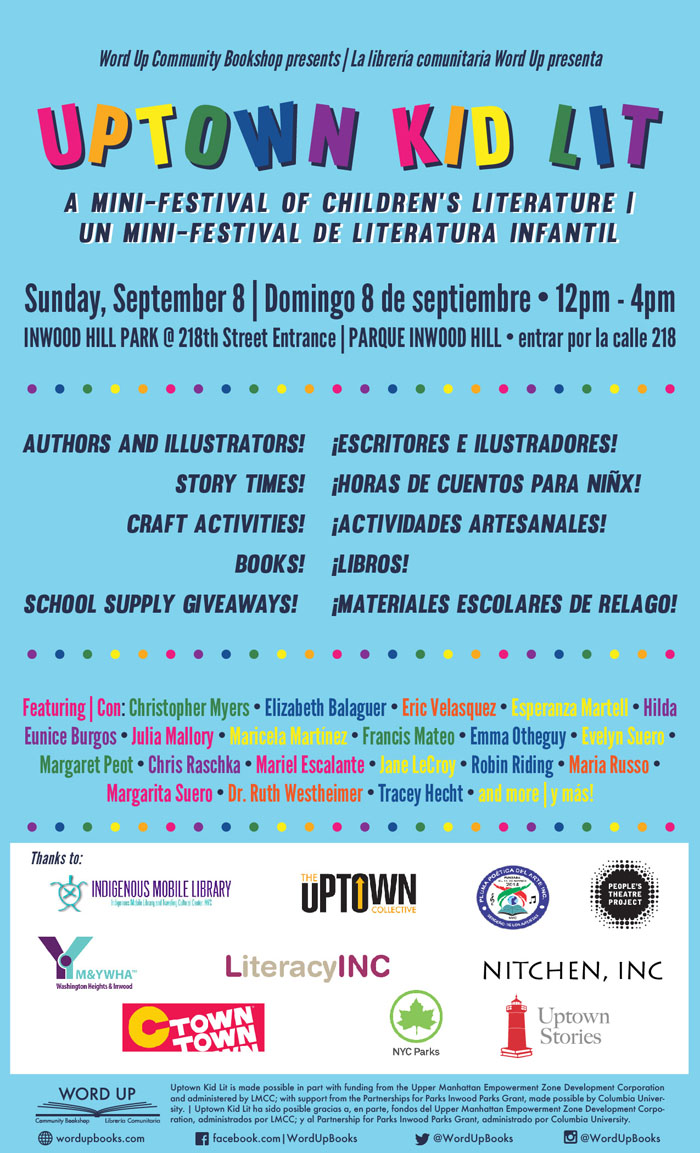 The indispensable Word Up Books is hosting Uptown Kid Lit—a mini-children's book festival—in Inwood Hill Park this coming Sunday, September 8 from 12 to 4 pm! Come by for books, author readings and signings, story times, and FREE school supplies!
Preregister HERE to skip the registration line and get a tote bag that you can fill up with books and school supplies.
And don't forget to tell all your friends—and your kids' friends—about Uptown Kid Lit today!
Check out: 09/08/19: Uptown Kid Lit
SCHEDULE
::::: STAGE :::::
12:00pm // Raising Readers: Maria Russo in conversation with Francis Mateo
12:40pm // Make Me a World: A Talk with Christopher Myers
1:20pm // Middle Grade Authors Hilda Eunice Burgos and Emma Otheguy in Conversation
2:00pm // Women in Comics Panel
2:40pm // Roller Coaster Grandma: Dr. Ruth Westheimer and Her Children's Books
3:20pm // Chris Raschka Reads—with Live Musical Accompaniment!
::::: UNDER THE SEA TENT :::::
12:00pm // Story Time with Mariel Escalante (El increíble, sorprendente violín que se encogía)
12:45pm // Story Time with Elizabeth Balaguer (Mi Carnaval/My Carnival)
1:30pm // Mermaids Fast Asleep Story Hour and Puppet Party with Robin Riding
2:30pm // Story Time with Julia Mallory (Kareemah and the Black Mermaids)
3:15pm // Story Time with Eric Velasquez (Octopus Stew)
::::: TIERRA TENT :::::
12:00pm // Margarita & Evelyn Suero: Reading & Dominican Doll-Making
1:45pm // Tracey Hecht: Reading with The Nocturnals & Animal Mask-Making
2:30pm // Story Time with Pluma Poética Del Arte's Maricela Martínez (La manzana roja)
3:15pm // Margaret Peot: Inkblot Reading and Bug-Making
::::: PLUS :::::
+ Uptown Stories: A Poetry Experience for All Ages with Jane LeCroy
+ NYC Indigenous Mobile Library
+ Crafts with Esperanza Martell and Margaret Peot
+ Face painting with Nitchen's Vida Landron
+ Resource tables including People's Theatre Project, the YM & YWHA of Washington Heights & Inwood, & Literacy Inc.
Uptown Kid Lit is made possible in part with funding from the Upper Manhattan Empowerment Zone Development Corp. and administered by Lower Manhattan Cultural Council; with support from the Partnerships for Parks Inwood Parks Grant, made possible by Columbia University in the City of New York.
Check out: 09/08/19: Uptown Kid Lit
We invite you to subscribe to the weekly Uptown Love newsletter, like our Facebook page and follow us on Twitter & Instagram or e-mail us at [email protected].