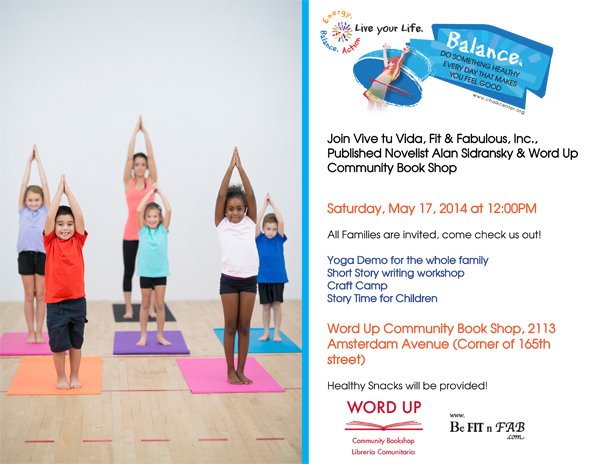 In conjunction with Fit N Fabulous Inc., Published Novelist Alan Sidranksy and Word Up Community Book Shop, come participate in:
Yoga Demo for the entire family
Short Story writing workshop facilitated by Alan Sidransky
Craft Camp
Story Time for Children!
Saturday, May 17th @ 12:00PM
Word Up Community Book Shop, 2113 Amsterdam Avenue (Corner of 165th street)
Related:
The Uptown Lit Festival In Pictures
The Uptown Lit Festival: The Social Media Recap
In Washington Heights, a Bookstore That Knows How to Make the Show Go On | NY Times
The Top 3 Reasons You Should Donate to Word Up Books
Junot Diaz Wishes Word Up Books A Happy Birthday!
Inwood Fire Fundraiser @ Word Up Books In Pictures
Last Night @ Word Up Books As Seen By Paul Lomax
We invite you to subscribe to the weekly Uptown Love newsletter, like our Facebook page and follow us on Twitter, or e-mail us at UptownCollective@gmail.com.