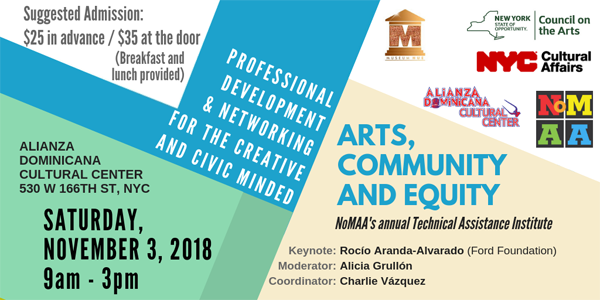 Listen up folks, NoMAA's Technical Assistance Institute 2018 goes down on November 3, 2018 at the Alianza Dominicana Cultural Center (530 W 166th St) from 9 am to 3 pm. You don't want to miss this full day of professional development and networking for the creative and civic minded. Rocío Aranda-Alvarado, who is a Program Officer at the Ford Foundation, will deliver this year's keynote address. The Technical Assistance Institute 2018 also boasts some powerhouse panels that touch on such topics of tech, female artists, gentrification and the arts as healing practices.
Panels:
Technology: Bridges to New Engagement with Marco Castro Cosio, Lisa Daniell, Carlos Jesus Martinez Dominguez and Monica O. Montgomery
Women on the Frontlines with Blanka Amezkua, Minerva Diaz, Juanita Lanzo and Yelaine Rodriguez
Gentrification and Cultural Preservation with Tomie Arai, LaTasha N. Nevada Diggs, Edwin Pagan and Adrián "Viajero" Román
The Arts as Healing Practices with Nancy Bruning, Dominic Dupont, Marcus Smalls and Curtis D. Young
For more info: 11/03/18: NoMAA's Technical Assistance Institute 2018
We invite you to subscribe to the weekly Uptown Love newsletter, like our Facebook page and follow us on Twitter & Instagram or e-mail us at UptownCollective@gmail.com.