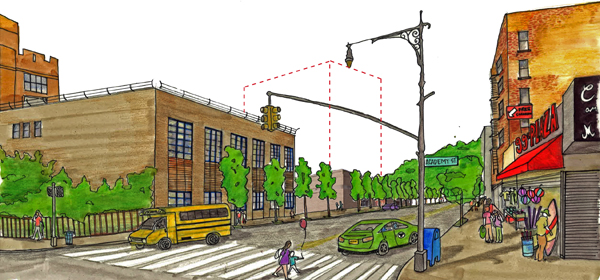 They're all in at the Inwood Branch – well, at least the elected officials are.
City Councilmember Ydanis Rodríguez, Congressman Adriano Espaillat, Manhattan Borough President Gale Brewer, State Senator Marisol Alcántara and State Assemblymember Carmen De La Rosa have officially voiced their support for the city's controversial proposal to redevelop the Inwood library with affordable housing on the same site.
While some residents have been vocal critics of the development, in a joint statement issued on May 13, the officials backed the proposal, which was first issued by the Department of Housing Preservation and Development (HPD), and New York Public Library (NYPL) in January.
The Robin Hood Foundation has supported the project with $5 million dollars.
"At long last, our community will finally receive the 100 percent affordable housing we've needed and demanded of prior administrations," said Rodriguez. "I applaud Mayor Bill de Blasio and his administration for exploring housing options in our neighborhood in creative ways. With housing costs higher and higher due to a lack of supply, many Inwood residents are spending more than a third of their income on rent, and some even more. I'm excited to see a new library as well, with improved design for more space and the potential for enhanced programming like tech classes and labs."
"There is an affordability crisis in New York City," said Espaillat. "As neighborhoods are gentrifying, rent prices are increasing, and families are being forced to relocate because they can no longer afford to live in their homes, today's announcement is a solution to a growing crisis in our communities."
Read more: Redevelopment receives support – and dissent | Manhattan Times
Related:
With Inwood Rezoning Slowed, Attention Turns to Inwood Library Project | City Limits
Photo Essay: Inwood Hard at Work, Set to Change | City Limits
Aging Infrastructure an Issue in Bid to Reshape Inwood | City Limits
Dueling Protests at Meeting on East Harlem Rezoning | City Limits
We invite you to subscribe to the weekly Uptown Love newsletter, like our Facebook page and follow us on Twitter & Instagram or e-mail us at [email protected].