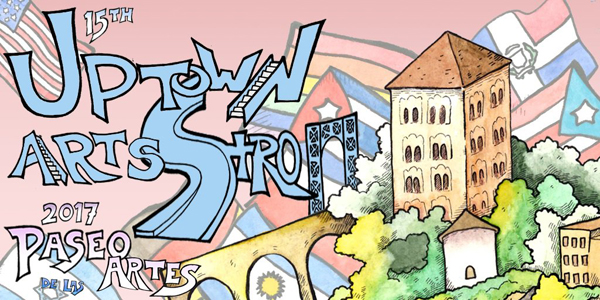 Once again it's on. The month long celebration of the arts in Uptown Manhattan will kick off on May 31, 2017 from 6 pm to 8:30 pm at the venerable United Palace (4140 BWAY @ 175th Street). This year's honorees are Patricia Cruz, Maggie Hernández-Knight, Elvis Nolasco, and Elizabeth Lorris-Ritter. For the past 14 years, local artists and leaders have partnered to build a stronger community through the arts in Northern Manhattan. The Uptown Arts Stroll is an annual showcase for this effort, giving a voice to an arts community that is growing in the often overlooked and quickly gentrifying neighborhoods of West Harlem, Washington Heights and Inwood.
There will be music, performances, readings, food, refreshments and much more.
FREE and open to the public.
Performers
The kickoff celebration will feature performances by the Harambee Dance Company, musicians of the Washington Heights Chamber Orchestra and singer-songwriter Victor Rosso.
The Harambee Dance Company pulls together the essence of African and African-American dance and music presenting if from an innovative and exciting new contemporary perspective. Artistic Director and resident choreographer Sandella Malloy developed a high-energy repertoire of African-based movement, modern dance forms, live percussion and original music, with vibrant costumes into captivating performances reflecting the majesty of the African Diaspora.
The Washington Heights Chamber Orchestra (WHCO) is a communal listening experience that celebrates diversity, engenders civic awareness and enriches lives. More than classical music, the WHCO strives to connect the best art across genres and cultures. Their home is Fort Washington Collegiate Church who partnered to present the orchestra's second season in 2016–17. The WHCO, composed of professional musicians from Upper Manhattan, will produce nine concerts this year featuring its fine musicians who will present solo recitals and chamber music to the neighborhood.
Victor Rosso is an uptown singer-songwriter who started performing at age 14. After touring with renowned artists in Cuba along with his band of musicians, Victor moved to Cancun, Mexico where he found depth and inspiration in folkloric and traditional Cuban sounds mixed with organic and electro-acoustic music. Inspired by the Caribbean Sea and nature, Victor performed weekly to audiences of all ages on the shores of the beach and in jazz clubs throughout the city of Cancun. Driven by his family and university studies, he moved to Washington Heights where he works on various music projects and is a producer for other local musicians. Mr. Rosso's Caribbean inspired music is performed weekly in Washington Heights-Inwood and elsewhere.
The 2017 Uptown Arts Stroll will feature open studios, art exhibitions, concerts, literary events, and performances during the month of June, throughout Northern Manhattan from West 135th Street to West 220th Street.
For more info: http://artstroll.com/
Related: And The Winner Is…
We invite you to subscribe to the weekly Uptown Love newsletter, like our Facebook page and follow us on Twitter & Instagram or e-mail us at [email protected].