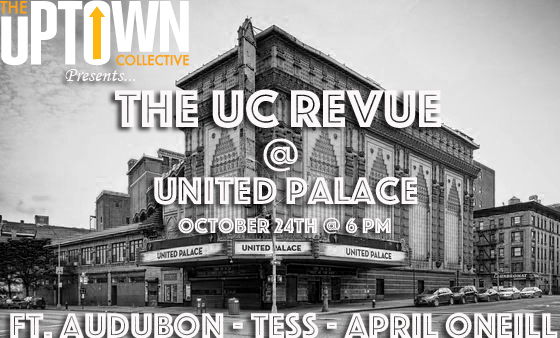 The UC Revue @ United Palace
Ft. Audubon – Tess – April Oneill
United Palace (4140 BWAY @ 175th)
Monday, October 24th – Doors Open 6 pm
In our never ending quest to spread Uptown Love, we are proud to present the very first installment of The UC Revue at the magnificent United Palace on Monday, October 24th at 6 pm. The UC Revue is all about highlighting and showcasing the absolute best talent that Uptown has to offer. Lined up to perform in the lavish foyer of the United Palace are none other than Audubon, Tess and April Oneill. The event is free but space will be extremely limited, please RSVP below.
RSVP: 10/24/16: The UC Revue @ United Palace
See below for a taste of what you are in for… Remember the motto, Spread Love It's The Uptown Way!
RSVP: 10/24/16: The UC Revue @ United Palace
We invite you to subscribe to the weekly Uptown Love newsletter, like our Facebook page and follow us on Twitter & Instagram or e-mail us at UptownCollective@gmail.com.