By Erin Hudson, Kirsten Watson and Mirella Brussani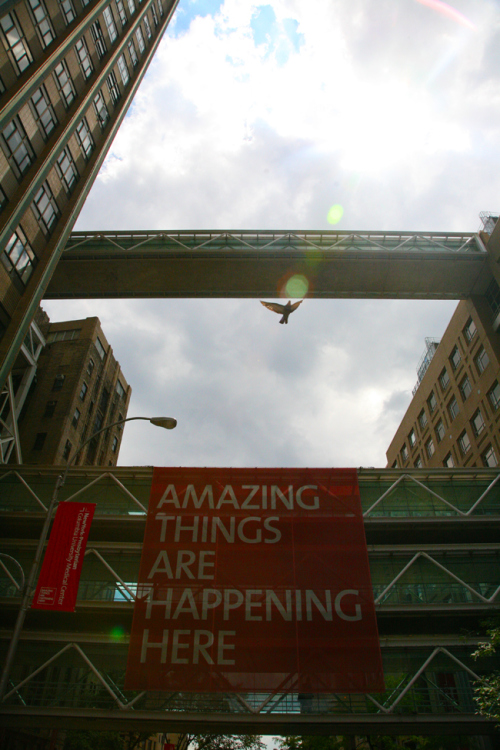 This is the story of the community's development, told through longtime residents, historians, journalists and activists who are trying to document their neighborhood as it is today, before unwanted change arrives.
"This isn't the West Side story," said Raquel Cepeda, an award winning author, filmmaker and podcaster who lives on the east side of Washington Heights/Inwood neighborhood in Upper Manhattan. "But there's definitely a border that I'm aware of."
Cepeda grew up on the west side of the neighborhood and moved to the east side when she was 17. "I found community on the east side."
She recalls the economic and spiritual border that Broadway Avenue cuts through the neighborhood — one that still exists today for many residents.
Led Black, another lifetime eastside resident, remembers mapping out the neighborhood as a kid. There was a ten block radius he felt safe in; anything outside of that was someone else's turf. Now, two decades later, he's grown up with three daughters and a full-time job in IT. He founded a blog in 2010 to inform other residents like him about everything the neighborhood has to offer across all societal borders. The Uptown Collective blog has become his way of engaging with his neighbors and giving back to the community.
From a Crime Capital to One of Jay Z's Favorite Spots
"In the '80s and '90s, this neighborhood was something else," Black said. "We had riots here in 1992 and no one knew about it."
In July of 1992, Jose "Kiko" Garcia was fatally shot by a police officer. He was a 24 year old Dominican, living on 168th Street, and his death was the last straw for the community.
During the 1980s and 1990s police brutality was prevalent in Washington Heights. Black said, "there was a point when they could just frisk you at anytime." The police did not respect the people in the neighborhood, "dehumanizing" them, said Black.
In 1992, Black was a young kid in a rap group. When the riots broke out, he grabbed his disposable camera to take pictures, thinking that these photos could be an album cover. Today these pictures are displayed on the blog he runs and ingrained in his memory. Black remembered the stop lights on the streets, the glass of the bus stops shattered, cars on fire, and every one from the different communities within Washington Heights coming together. "For that day, everyone was united."
Black said the death of Kiko Garcia was a turning point for the community and marked the beginning of concerted efforts from residents to improve the safety of the neighborhood on their own terms.
Between the 1970s and the 1990s, racial tensions and the drug trade made the neighborhood known as one of the city's most dangerous areas. According to DNAinfo's Crime and Safety Report, Washington Heights was known then as "the city's murder capital, ruled by drug gangs and scarred by police corruption."
Read more: Washington Heights: The Other Uptown
Video by Kirsten Watson, Mirella Brussani and Erin Hudson.
Related: Cross Broadway and Think Big
We invite you to subscribe to the weekly Uptown Love newsletter, like our Facebook page and follow us on Twitter & Instagram or e-mail us at [email protected].