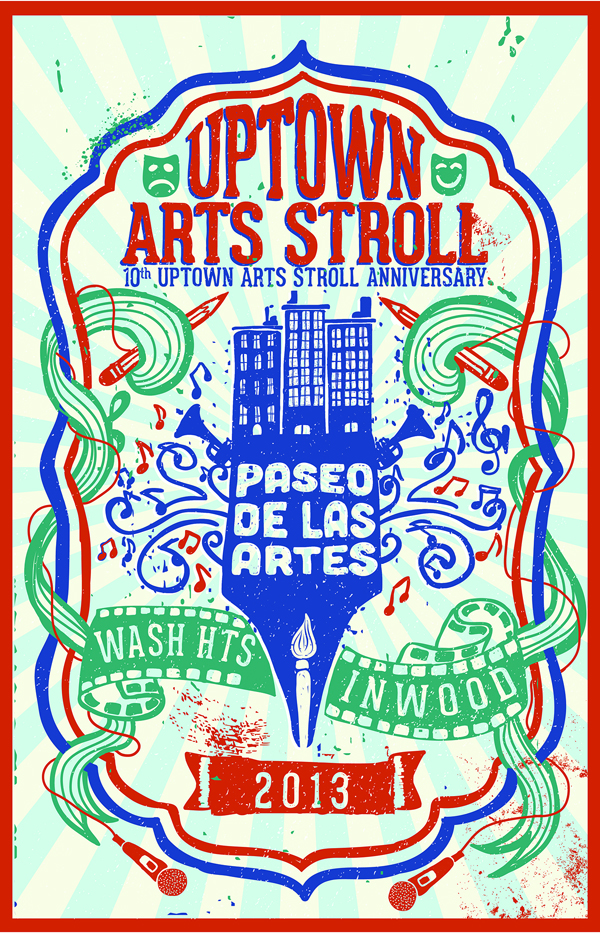 The Northern Manhattan Arts Alliance announces the 2016 Uptown Arts Stroll Poster Contest, open to Washington Heights–Inwood and West Harlem artists.
For this year's submissions for the poster contest, artists are asked to incorporate these elements into their proposed art work:
Theme: Arts and history in Northern Manhattan.
Include "Uptown Arts Stroll, June 2016" in the design.
(Note: You can also submit your design to the BID/GoUptown.NYC initiative.)
Eligibility
Artist must be a resident of Washington Heights–Inwood or West Harlem (West 135th to 220th Street).
Artist may submit only one (1) image for consideration.
Submission requirements
Entry must be submitted by e-mail to artstroll@nomaanyc.org by Friday 15 April 2016, 5 p.m. EDT. Please write "Arts Stroll poster contest" in the subject line of your e-mail message.
Image file must be a high-resolution (300 dpi only) JPG or PDF without the artist's name.
E-mail entry must include:

Artist's full name (first and last)
Artist's brief bio or artist statement
Address
Phone number
E-mail address
Art work title and media
For more info: Call for artists: 2016 Uptown Arts Stroll Poster Contest
We invite you to subscribe to the weekly Uptown Love newsletter, like our Facebook page and follow us on Twitter, or e-mail us at UptownCollective@gmail.com.