Story and photos by Gregg McQueen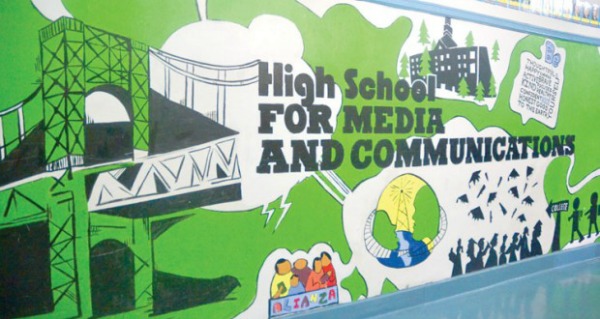 It was a music room with no music.
The large music instruction room at George Washington High School for Media and Communications in Washington Heights had remained dormant for many years, used only for storage rather than for students playing instruments.
Like many schools, cuts to the music curriculum had deprived George Washington students of a key artistic pursuit.
After a year-long campaign, the curriculum has now been restored, through the aid of Manhattan Borough President Gale Brewer and Amp Up NYC.
The High School for Media and Communications recently hired Vince McCoy, its first music teacher in seven years, and launched an instrumental program, which will be will be shared with the three other high schools on campus, located at 549 Audubon Avenue.
And the music room, adorned with an elaborate mural painted in 1939 by Lucienne Bloch and depicting the evolution of music, is back in use, filled with new instruments donated by Amp Up NYC.
Read more: Slaying the silence | Manhattan Times
We invite you to subscribe to the weekly Uptown Love newsletter, like our Facebook page and follow us on Twitter, or e-mail us at [email protected].