BY Led Black (@Led_Black)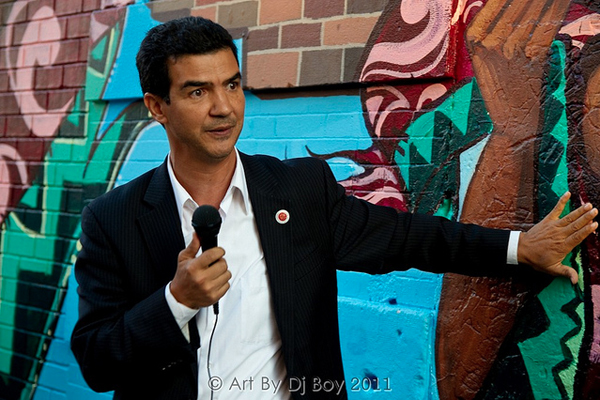 Q. You have a long history of activism and service. Please give us a brief bio.
A. I was born in the DR to a family of 13 children and from a young age, my older sisters instilled in me the value of education. At that time, the only schools were miles away from my house and I was left to walk each day, yet I understood that this would be the key to a better life. I grew up under an influential teacher who was a student of Liberation Theology and a major proponent of social justice. From that point on, I dedicated my life to helping those whose lives had been touched by injustice. When I arrived in the US at the age of 18, I worked several low wage jobs to help me get on my feet and eventually enrolled in City College to study Political Science.
This is where I began my activism in the United States, fighting back against budget cuts to CUNY by eventually taking over the City College campus until we had an opportunity to meet with the chancellor. During this time, I encountered my first experience with police harassment when an officer told me that because I was Dominican, I had no rights, even after citing my constitutional right against unlawful search and seizure. It was an experience that laid the groundwork for my views on fighting unlawful stop and frisk. Following this time, I went on to get my masters degree from City College in Education and helped to found the Gregorio Luperon High School to assist immigrant students in acclimating to life in the US while receiving a quality education. Even during my time teaching, I kept up my activism, denouncing the war in Iraq, fighting for social justice and the rights of workers, and working to get more members of our community into the middle class through education advocacy.
During my time as a City Council Member, I have been primarily focused on shedding light upon the alarming rates of students that are not college ready when they graduate from our public high schools. As chair of the Higher Education Committee at the council, I advocate for more focus to be placed on this problem since our schools are failing an entire generation of kids that will become our future leaders some day. Particularly with African American and Latino students, only 15% are deemed college ready by the DOE, something that I have brought to light and pushed the DOE to begin measuring so that we can find better ways to allocate resources. Additionally, I have focused on bringing more affordable housing to Washington Heights, Inwood and Marble Hill; improving our parks and green spaces so that they can be safe and enjoyable for all; drawing attention to public health issues that especially plague Northern Manhattan such as obesity, child obesity and domestic violence; and working with partners to bring more quality jobs into the district so that we can bolster our local economy in the future.
Q. Why are you best person for the job?
A. I believe I am best suited for this office because I have a necessary mix of experience and knowledge of what so many in our district face. I know what it is to grow up in a lower-income community, to work hard every day for little pay while fighting to make a better life for myself. I feel that with this lived experience, I can connect with a major part of our community that is still working toward this goal. At the same time, I have embraced the chance to work with residents new to district 10 and see this as a distinct opportunity to bridge parts of Northern Manhattan across a number of social divides. I believe I have made inroads with residents of the former district 7 and that in many ways, we all want the same things from our community: good schools, clean, safe streets and parks; an affordable home and the opportunity to live a comfortable life as a member of the middle class. Through my work over the past four years, I have helped to lay a groundwork for a brighter future for Northern Manhattan; a Northern Manhattan that is united in these goals. I believe that I possess the ability to follow through in making this community one of the best in the city.
Q. What are some of the biggest issues facing the people of the 10th district?

A. District 10, Northern Manhattan, still faces many struggles. Not all of our local schools are performing at high levels. We are not sending enough of our students to college with expectations of success in professional fields. About 50% of all 18-35 year olds in Northern Manhattan, over 30,000 people, possess a high school diploma but do not have a college degree, this is a major portion of our population that can enter the middle class with additional opportunities. Our obesity and childhood obesity rates are the highest in Manhattan and more than half of all domestic violence complaints in the borough come from this community. Our median income remains relatively low and there are not enough quality jobs for our residents to live comfortably. From 2000-2010, over 18,000 people moved out of the old district 10 due to a lack of affordable housing, yet this current administration has only build just over 200 new units out of the 65,000 units build city wide during his administration.
Q. What are some of the plans you have for your next term if you have the honor of being elected?
A. Because of these issues, I have been working with a number of academics and community leaders throughout the area on a comprehensive plan to move our community forward. Similar to Mayor Bloomberg's PlaNYC 2030, this will address needed educational improvements, legitimate affordable housing proposals, plans to better utilize and expand our greenspace and waterfronts and more over the coming decades. I want our community to take a long term view of where we are heading and how we can take more control of our future. I will be unveiling the blueprints of this plan in the fall and greatly encourage community feedback so that we can work together on necessary goals. On a smaller scale, I want to continue working with local organizations to make this community a cultural hub in New York City, as we are flush with diversity and amazing artists. I plan on improving the safety of our streets by working on additional slow zones; making our community more accessible for wheelchair bound individuals by building upon my track record where I allocated money to put elevators at the Dyckman St. 1 train station; I want to get our community more physically active by making our streets better equipped for cyclists; and I want to utilize the brilliant human capital we have in this area, the doctors, engineer, social thinkers, activists and more, who can inspire and build a better Northern Manhattan.
Q. Any final thoughts?
A. My name is Ydanis Rodriguez and I would be honored to have your vote in the upcoming Democratic Primary. Over the past 4 years I have worked hard every day to improve the lives of my constituents. I believe wholly in community empowerment, that if we all mobilize to fight for better schools, more jobs, affordable housing and more, we can form an unbeatable movement. I want to work with each of you, listen to your ideas and move forward together, so that we can keep improving, keep building and keep making this community one of the best in New York City. Thank you!
Site: http://ydanis.com/
FB: https://www.facebook.com/ydanis.rodriguez
Twitter: @ydanis
IG: @yrodriguez10
Related:
Politicking With The People: A Q&A With Juan Ignacio Rosa
Politicking With The People: Zead Ramadan – NYC Council 7th District
Politicking With The People: Vince Morgan – NYC Council 9th District
Uptown 2011 Movers & Shakers: Ydanis Rodriguez – A Man of the People
Si Votamos, Ganamos – Awakening the Sleeping Giant That is the Latino Vote | Huffington Post
We invite you to subscribe to the weekly Uptown Love newsletter, like our Facebook page and follow us on Twitter, or e-mail us at [email protected].