Story by Robin Elisabeth Kilmer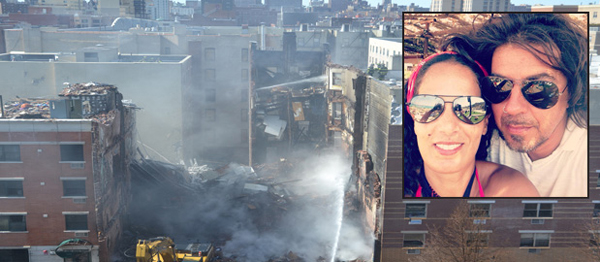 After the blast
The tragic explosion in East Harlem claimed the lives of 8 residents, leveled two residential buildings and injured nearly 70. Scores of families have been displaced, and many small uptown businesses and organizations affected have been unable to reopen or resume operations. After the Blast will offer a glimpse into the lives of those struggling to recover since the events of Wed., Mar. 12th.
Liseth Pérez and Andreas Panagopoulos met each other only months after they both arrived in New York City in 2000.
At first they began hanging out with mutual friends—through a distant cousin of his who wasn't really a cousin. It became clear that Panagopoulos was smitten with Pérez, and their friends arranged for the two to go on a date. Pérez doesn't remember where they went—but she does remember being impressed by Panagopoulos.
"He was a very smart guy. You could literally talk to him about anything," said Pérez. "You really learn when you talk to him."
Soon Pérez, from Venezuela, and Panagopoulos, from Greece, were married.
It was a classic, made-in-New-York love story.
The two shared their cultures—making it a point to visit Greece and Venezuela every year. They made sure there were other detours along the way—to places that frequently grace the covers of travel magazines: Spain, Turkey, Paris, Argentina, a wedding in the Dominican Republic here, a trip to London there.
The two lived it up, going dancing, going to birthday parties, enjoying food.
"We always had something to do," said Pérez. "He was very into having fun."
Read more: "From all this tragedy, I get beauty" "De toda esta tragedia, obtuve belleza" | Manhattan Times News.
We invite you to subscribe to the weekly Uptown Love newsletter, like our Facebook page and follow us on Twitter, or e-mail us at [email protected].