This event will highlight some of the many contributions young Dominicans are making to the Washington Heights community and Uptown. The objectives of this event is to provide a safe haven for young people to network, inspire, and discuss their stories in regards to what it means to be Dominican in the Heights and in their field of work.
Invited Speakers:  
Juan Camilo, Founder of Dykman Beer
Jose Batista-Ayala Writer, Director and Producer of FRiENDAMiGO, the play
Rosanny Cuello Ventura, an Educator from Washington Heights
Kaity Modesto Coordinator of the event and author of published literature,Our Heights' Story: Exploring the Dominican Community in Washington Heights from 1992-2013
Led Black, Chief and Editor of the Uptown Collective blog (Moderator)
This event free and open to the public.
RSVP: https://www.facebook.com/QuisqueyaHeights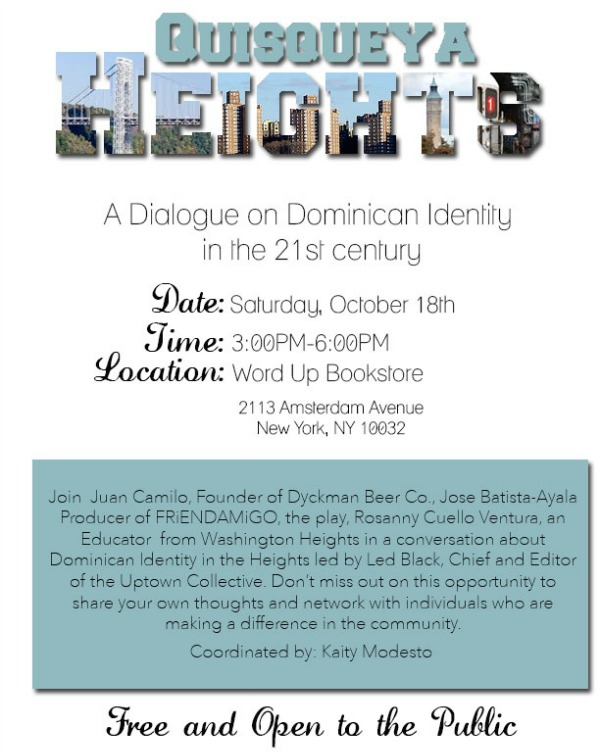 Related:
Honoring Juan Rodriguez, a Settler of New York | NYTimes
Led Black: Un Pie Aqui y Uno Alla | Huffington Post
Signs of the Times: No Ala Reforma Protest NYC
We invite you to subscribe to the weekly Uptown Love newsletter, like our Facebook page and follow us on Twitter, or e-mail us at [email protected].