BY Jenni Ruiza (@RuizaJenni)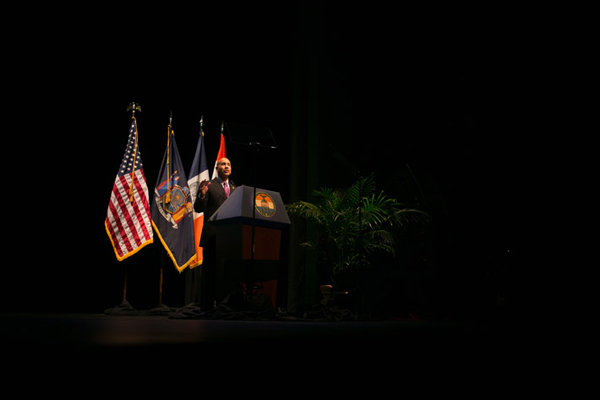 At the State of the Borough address held this week at Hostos Community College, Borough President Ruben Diaz Jr detailed a plan of action that would help revitalize the borough. Similar to the State of the Union address given by POTUS a few weeks ago, Diaz hit points that explained the following:
Crime
Crime has been its lowest in decades. Since Diaz Jr was elected, crime has decreased significantly. In 2013, murder rates dropped 27%, while shootings decreased 25% and shooting victims fell 30%. Diaz Jr noted that the borough was in the safest conditions it saw in some time, labeling it "safer place to live than cities such as Philadelphia and Boston, and much safer than New Orleans or Washington, D.C." Plans have been outlined to continue upholding the safety of the borough by enhancing security at public housing developments geared to aid with over 100,000 residents. This year, close to $5 million was provided to seven developments for security.
Kingsbridge Armory

As we mentioned a few Fridays ago, the project to build the ice skating rink in the Kingsbridge Armory was mentioned, noting that this project alone would bring an estimated $300 million in private development funds, living wage jobs and "the strongest possible community benefits agreement ever written to our borough". Looks like we'll be seeing quite a change in community over the next few years with the completion of this major overhaul.
The Relationship Between Community and Law Enforcement

In an effort to relinquish a healthy rapport with the community and police, a plan to introduce a project called C-BALL (Community Board Athletic Leadership League) was put in place in January of this year. Said project's goal is to "promote physical activity through basketball while facilitating engagement within our community boards and with city agencies, such as the NYPD." Interestingly enough, this may also become a great way to add to after-school programming and in turn, help decrease the crime rate even further.
Education

Have you ever really sat back and thought of how wonderful the technology is and why it really hasn't been implemented into our schools? Well, this year more resources are being dedicated towards improving our educational system with the hopes to enhance computer labs equipped with the latest technology, lessen the need to purchase books and instead use tablets and computers, and finally engage students in social media for the benefit of connecting with their classmates and teachers, while keeping parents informed at quick and accessible resources.
It appears our Borough President is working strategically to get a plan in place that will execute a "New Bronx", but my question is – how much longer do we feel this rebuilding will take in order to finally be sought as a "premiere" borough?
For more on the State of the Borough Address, you can read it in its entirety here: http://bronxboropres.nyc.gov/pdf/2014-bronx-bp-ruben-diaz-jr-sotb.pdf.
Find out more about Bronx contributor, Jenni Ruiza, at http://www.jenniruiza.com/. Follow her on Twitter @RuizaJenni.
Check out:
Best of the Boogie Down: Havana Café
The Best of the Boogie Down: The Clock Bar
The Best of the Boogie Down: House of Cupcakes
The Best of the Boogie Down: Brew Coffee House
The Best of the Boogie Down: The Bronx Beer Hall
We invite you to subscribe to the weekly Uptown Love newsletter, like our Facebook page and follow us on Twitter, or e-mail us at UptownCollective@gmail.com.