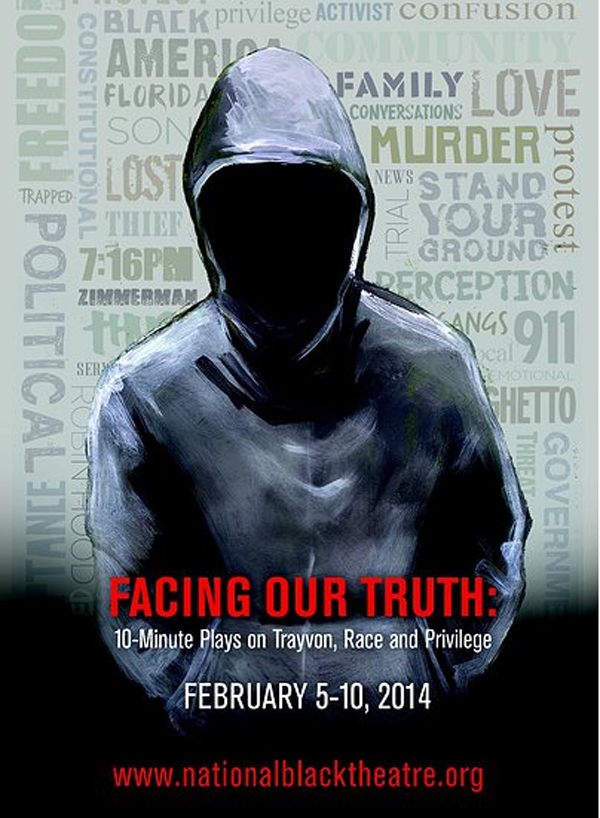 February 5 – 10, 2014
Opening Night – Feb. 5th 
TICKETS ON SALE NOW!
General Admission $25
Facing Our Truth: 10-Minute Plays on Trayvon, Race and Privilege
Playwrights: Dominique Morisseau, Winter Miller, Dan O'Brien with Grammy Award-Winner Quetzal Flores, Marcus Gardley, Mona Mansour and
Tala Manassah, and A. Rey Pamatmat.
Directors: Ebony Golden and Axel Avin Jr.
For more info: Facing Our Truth @ The National Black Theatre
By the way, please read Jelani Cobb's excellent post on the murder and subsequent trial.
Check out: George Zimmerman, Not Guilty: Blood on the Leaves
Related:
Todos Somos Trayvon – Uptown Stands Up For Trayvon Martin
The Million Hoodie March NYC In Pictures
Op-Led: John Collado Remembered
We invite you to subscribe to the weekly Uptown Love newsletter, like our Facebook page and follow us on Twitter, or e-mail us at [email protected].