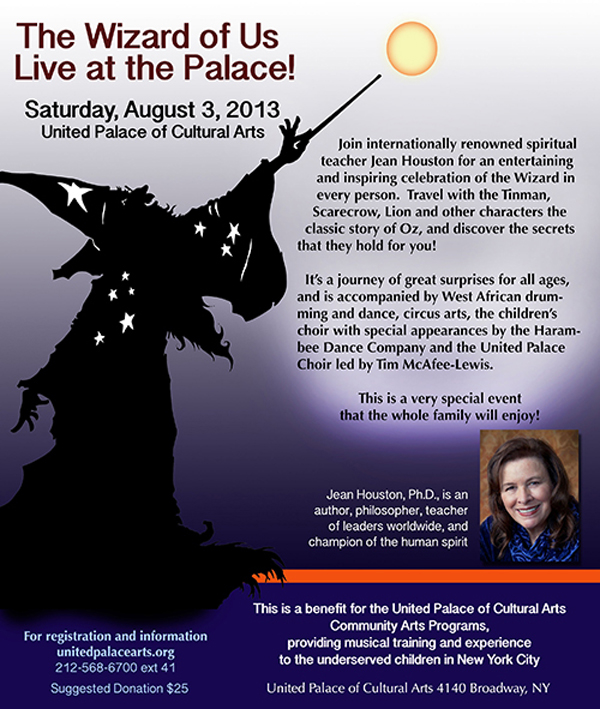 Join internationally renowned visionary Jean Houston for a magical daylong journey over the rainbow and into the United Palace where dreams come true! Jean Houston will masterfully take you on a life-changing exploration using the themes in the Wizard of Oz to help you unleash the genius at the depth of your being. This benefit performance supports the United Palace of Cultural Arts community youth programs and features our kids performing orchestral music, West African drumming and dance, and circus arts. Special appearances by the Harambee Dance Company and the United Palace Choir led by Tim McAfee-Lewis. Suggested donation $25.
Jean Houston, Ph.D., scholar, philosopher and researcher in Human Capacities, is one of the foremost visionary thinkers and doers of our time. She is long regarded as one of the principal founders of the Human Potential Movement. Dr. Houston is noted for her ability to combine a deep knowledge of history, culture, new science, spirituality and human development into her teaching. She is known for her inter-disciplinary perspective delivered in inspirational and humorous keynote addresses. During Dr. Houston's extensive career as a thought leader she has collaborated with Eleanor Roosevelt, Margaret Mead, Aldous Huxley, President and Mrs. Clinton, Mother Teresa and The Dalai Lama.
For more: Over the Rainbow and into "The Wizard of Us".
The video below on the history of the United Palace comes to us courtesy of Channel Thirteen.
Related:
indiegogo Spotlight: Return Film to the United Palace
Uptown Artists Mobilize to Return Film to United Palace | DNAinfo
Spa For The Soul: A Q&A With Xavier Eikerenkoetter
In The Heights @ The United Palace – The Recap
The significance of "In the Heights" at the United Palace
The 2012 Uptown Arts Stroll Kick-Off – The Recap
Icarus at the Edge of Time @ the United Palace
We invite you to subscribe to the weekly Uptown Love newsletter, like our Facebook page and follow us on Twitter, or e-mail us at [email protected].