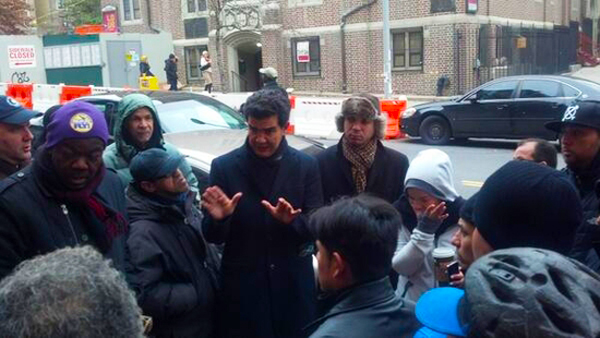 On Monday, December 9th, 2013, Northern Manhattan elected officials stood side by side at a candlelight vigil with community leaders, activists and more to support 24 workers fired from Domino's Pizza for speaking out against unfair labor practices. NYS Senator Adriano Espaillat, Assembly Member Gabriela Rosa, NYC Council Member Ydanis Rodriguez and NYC Council Member-Elect Mark Levine spoke out against the firings, which came as a result of workers standing up to management when directed to forego the tips necessary to earn above the minimum wage.
Delivery workers at Domino's are paid less than $6 per hour and depend heavily on tips to supplement their low wage. Following the national fast food workers protests Thursday, December 5th, 2013, Domino's delivery people were asked to work extended hours inside the kitchen, where they earn no tips. Despite this, management continued to pay the delivery workers at $5.65 per hour effectively confining them to sub-minimum wage pay.  When the employees spoke up, they were terminated.
On Sunday, Council Member Ydanis Rodriguez and Assembly Member Gabriela Rosa joined the workers in entering Domino's and requesting that they end the harassment and be allowed to return to their jobs. They were told that they would not be allowed back and must speak to the manager. After waiting beyond the manager's scheduled arrival time, the elected officials, community leaders and activists initiated a small protest calling for the workers to be reinstated and vowed to continue until this occurs.
On Monday evening, the workers, elected officials, and many community leaders and activists held a candle light vigil in solidarity and to let Domino's know that unfair labor practices have no place in Northern Manhattan.
The elected officials denounced the firings, and committed to standing with the workers until they are fully reinstated and treated with respect by management:
"This community stands committed to fighting for the rights of workers, particularly low wage workers who face harassment and unjust labor practices," said Council Member Ydanis Rodriguez (D-Northern Manhattan). "This will not end until these workers' jobs are restored and their rights respected. Nor will we stop fighting along with the hundreds of thousands around the country dedicated to improving their lives with higher wages and the right to unionize. Too many face the grueling struggle of providing for a family on minuscule pay. Workers have spoken and the time for change is now."
"Today is about more than putting an end to worker exploitation at Domino's Pizza and fast food restaurants nationwide. Today we are fighting to guarantee these 24 people can put food on their table, put presents under their Christmas tree, and pay their rent," Assembly Member Gabriela Rosa (D-72nd Assembly District) said.  "Tomorrow we will push for a living wage and the right to unionize, but today we only ask that these hardworking employees be allowed to return to work."
"Northern Manhattan stands united in our outrage over how Domino's has abused their workers, who are valued, hardworking members of our community," said Council Member-Elect, Mark Levine (D-district 7). It is unfathomable how this company could consider firing employees for standing up for their rights and fighting to support their families. The time has come for real living wage legislation and I intend to lead the fight in advocating for working families throughout New York City. As the holiday season is approaching, it is important to remember the core values we share that have led us to support and to advocate for fair and progressive public policies."
"Domino's treatment of these workers has been unjust, unethical, and utterly shameless," said Senator Adriano Espaillat (D-Upper Manhattan/Bronx). "These workers deserve justice for the harassment and exploitation they have faced, and our neighborhood is going to fight for them until that's achieved. If we allow these workers' rights to be violated, then all workers' rights are imperiled. These low-wage employees have families to take care of – we're not going to let Domino's leave them out in the cold this holiday season."
Organizers from New York Communities for Change continue to work with the employees to fight for their jobs. For more information on this effort, contact: Jaclyn@berlinrosen.com
We invite you to subscribe to the Uptown Love newsletter, like our Facebook page and follow us on Twitter, or e-mail us at UptownCollective@gmail.com.