Story by Sherry Mazzocchi and Adrian Cabreja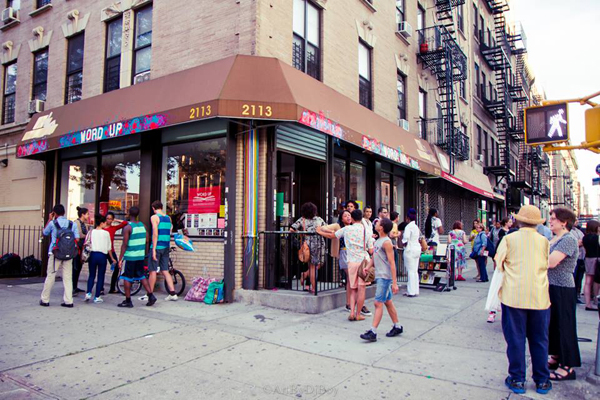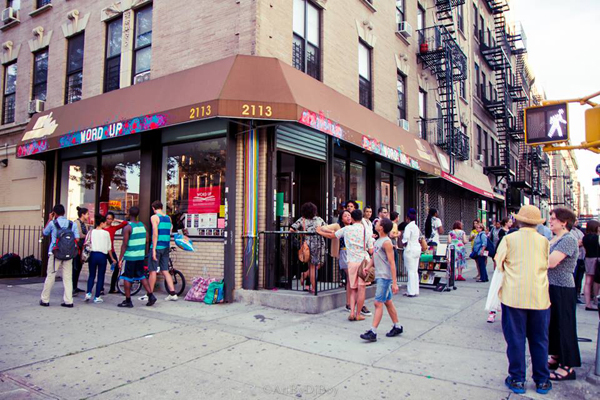 Hundreds of people jammed into the new Word Up Community Bookstore this past Fri., Jul. 26th to celebrate its grand opening.
Marjorie Elliot and other musicians of Parlor Jazz fame played as people squeezed in to admire the new space. Those who couldn't fit in gathered outside, at the corner of Amsterdam and West 165th Street, and ate treats from the nearby Mr. Softee ice cream truck.
Word Up co-founder Veronica Liu said, "This is amazing," as she thanked the dozens of volunteers and the hundreds of people who donated to their IndieGoGo campaign.
"People wanted Word Up back!" she added. "I began to understand what kinds of services a bookstore could provide its residents. It was necessary and a lot of people pushed for it. Word Up was recreated through the neighborhood."
Books are technology that transform people's lives, said co-founder Sandy Jiménez, because they allow readers to travel through time and space, learn from people who died long ago and experience things that otherwise would never be possible.
"You'll get out of the place what you put into it. We expect to see you all back," he told the packed store. "Use this place to really forge a better future."
Read more: Season of words.

Related:
In Washington Heights, a Bookstore That Knows How to Make the Show Go On | NY Times
The Top 3 Reasons You Should Donate to Word Up Books
Junot Diaz Wishes Word Up Books A Happy Birthday!
Inwood Fire Fundraiser @ Word Up Books In Pictures
Last Night @ Word Up Books As Seen By Paul Lomax
We invite you to subscribe to the weekly Uptown Love newsletter, like our Facebook page and follow us on Twitter, or e-mail us at UptownCollective@gmail.com.