The best Cuban Sandwich in Washington Heights! #LaFloridita #washhts #nyc http://t.co/2neDVOSCbw

— Led Black (@Led_Black) July 17, 2013
Okay folks, before we get to where you can have the best Cuban Sandwich in Washington Heights, I thought it would be useful to provide a handy guide to finding and then devouring an authentic Cuban Sandwich.
Here we go.
First of all, if you walk into an establishment and you ask for a Cuban and they ask you what you want on it. Please, please, please – politely but quickly exit out of said establishment as you will not find a real Cuban Sandwich in this place.
Secondly, if you enter another eatery and the ingredients of the Cuban Sandwich read as follows on the menu; Tillamook Cheddar Cheese, Niman Ranch Ham with pulled pork and a garlic aioli mayo. Understand this – that is not a real Cuban Sandwich. While it may taste great, it is more of a remix of a Cuban Sandwich than anything else.
Now with that out of the way, if you want to taste a real deal Cuban then you don't have to go any further than La Floridita (4162 Broadway). The place has been around forever and they know how to make a proper Cuban. Let's get this straight; the following ingredients are what go into a real Cuban; Ham, Swiss Cheese, Roast Pork, Pickles, Mustard and Cuban Bread. That's it, with a touch of mojito (garlic sauce) to bring all the ingredients together.
The other part of the equation is as important and that is what we in the hood call La Plancha. La Plancha is the non-fancy name for a Panini Press. At La Floridita your sandwich actually makes the rounds of two planchas before being served. Not sure why but that is just their modus operandi. So there you have it. If you want the best Cuban Sandwich in Washington Heights, La Floridita is the spot!
Last thing, an ice-cold Presidente makes an excellent pairing choice with the Cuban Sandwich from La Floridita. You can see the aforementioned 2 planchas in the background of this pic. I had the Cuban Sandwich and the Presidente for approximately 7 bucks. You can't beat that.
Check out what some of the locals had to say about my designation of the Cuban Sandwich at La Floridita as the best in town.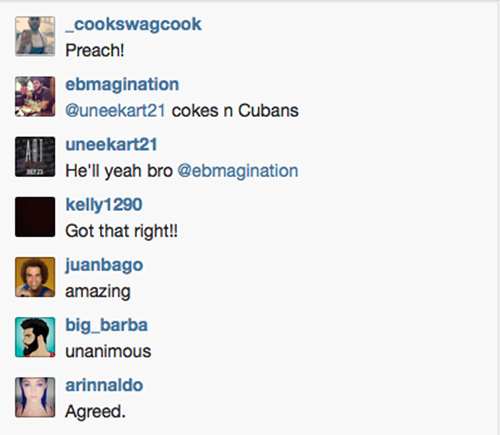 Related:
El Lina: The Best Little Dominican Restaurant in Washington Heights
El Malecon – A Dominican Cuisine Machine
We invite you to subscribe to the weekly Uptown Love newsletter, like our Facebook page and follow us on Twitter, or e-mail us at UptownCollective@gmail.com.