BY Led Black (@Led_Black)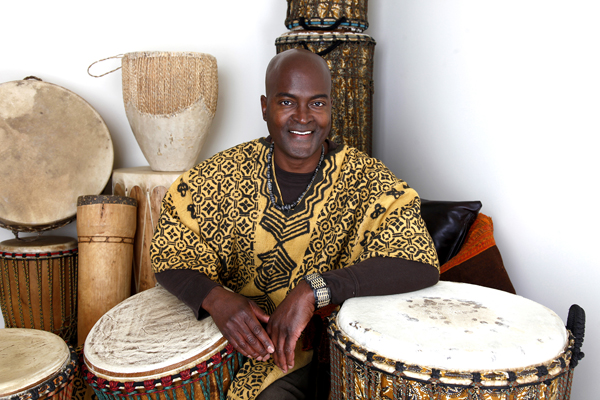 Q. First of all, what is "Spa for the Soul"?
A. A spa is a place where people go to get away, refresh, soak in healing solutions, and be therapeutically moved, so to speak. The idea for  "Spa for the Soul" is that you come, sit back, bathe in creative depths and have a good soul massage that will rejuvenate you at a deep level. The menu includes stirring creative performance, scintillating storytelling, relaxing meditation, stimulating conversation… all designed to have a most salubrious effect upon the heart and mind.
Q. Why is the myth of Orpheus a central part of this initiative?
A. Orpheus is one of the ancient archetypes or original examples of the enchanted creative artist. I founded UPCA upon the principle that each person has this ability within, and we are dedicated to presentations and programs that will help bring this forth in the community and its individuals, that is, help us unlock the genius inside that knows how to live life with artistry, passion, and inspiration. Whether we are engaged in a fine art or performance art or not, living life becomes the artistic endeavor. Orpheus shows us how to engage our gifts and pursue that which we love most, thus re-enchanting life itself. The myth, like all great stories, is a larger cultural dream that like a dream emerges into consciousness to reveal something to our awareness. I expect to be delving into other myths and stories throughout this series.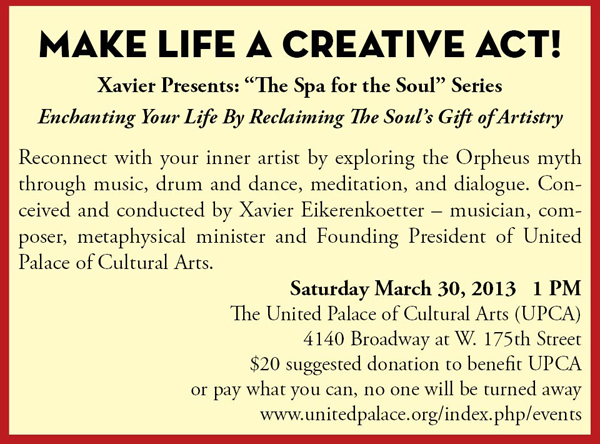 Q. How did you get into West African drumming?

A. I played the drum set since 11 years old – just had to have a drum set, strong soul urge (best thing my parents ever did for me among many great things), but when I moved to CA in my 20's I lived in a condo and couldn't bring my set.
I wanted to drum again, didn't have a set, and lost my chops. After traveling to Kenya, I became fascinated with hand drums. Back home I serendipitously found some workshops by world-renowned grandmaster Mamady Keita, who I had seen in a documentary film about his life. I'd never seen anybody play that way before, still haven't. What I love about it besides the instruments themselves, crafted from wood and animal skin – all organic material, is that the rhythms are ancient, completely from the earth, and tap me into the heartbeat of the Great Mother.
Q. Can you talk a bit of your work with incarcerated youth in Los Angeles?
A. Our CA organization, Rhythm Arts Alliance, grew out of work I started while I was earning my master's degree in counseling psychology. I developed a drum therapy program first in a home for boys, then in probation and incarceration facilities. It has since grown into girl's correctional facilities and schools and into the community at large. We teach traditional West African drumming as a way of deep expression; learning lessons of community, cooperation, listening, coordination as we study an ancient art-form with its music, culture, and discipline. I also developed a rites of passage program for incarcerated boys based on indigenous initiation practices, that went into deep places around manhood, life purpose, turning mistakes and the tendency toward trouble into something useful. We also provide support and work in partnership with fellow NPO's who specialize in poetry, mentoring, and community building for the same purpose.
It is all meant to support youth on a soul level the way our ancestors did and certain tribal cultures still do. Kids are falling out of the fabric of society only because we, the necessary elders and mentors, are letting them. It is time to redress this wrong.
Q. Please share your thoughts on your vision for the United Palace. 
A. I'll throw out a bunch of things:
The Palace will be a center for youth and young adult programming that includes everything mentioned above that we do in CA. Plus we have two youth orchestras already developing here, El Sistema style. I see them becoming full fledged kid's and youth orchestras that will fill the house and travel the world. I want young people educated and mentored across the board in the arts, so that means theater, dance, media and visual arts as well. So we will have the teachers and partner organizations necessary to provide that.
Beyond arts education: Youth and community gathering place with open mics, wrap sessions, spoken word events, safe place for young adults to develop individually and communally.
Community arts programs, full spectrum.
Valuable informational and inspirational talks, symposiums and workshops to help enhance people's lives
Indigenous classical music and dance; western classical music, opera, ballet, and other dance.
Circus arts (yes!)
Eventually producing our own theater works
Since you asked about United Palace, and not just UPCA, I'll include an expanded Interfaith Spiritual Center, because church has been a focus here for forty-five years and will continue to be so.
On the theater venue side: more big pop concerts, more Latin concerts, and more major theater events like "In the Heights."
We want to host the Tony's!
Q. Speaking of the United Palace, what is your first memory of the place?
A. Wow, I'm not accessing a single moment right now, but it's a conglomeration of many times starting at probably five-years-old seeing my dad up on stage speaking to a packed house of 5,000 (in the days before strict occupancy codes!). Ornate beauty all around. Gleaming gold walls, rich red velvet chairs…as it still is, thanks to his stewardship, which I'm committed to maintaining.
Q. Any final thoughts?
A. I appreciate your taking the time to engage around this and get the word out. I, and the rest of the good folks at United Palace, are in it to serve art, soul, and community. We, and the building, are part of the community. All are welcome; please come say "hi."
Related:
In The Heights @ The United Palace – The Recap
The significance of "In the Heights" at the United Palace
The 2012 Uptown Arts Stroll Kick-Off – The Recap
Icarus at the Edge of Time @ the United Palace
We invite you to subscribe to the Uptown Love newsletter, like our Facebook page and follow us on Twitter, or e-mail us at [email protected].