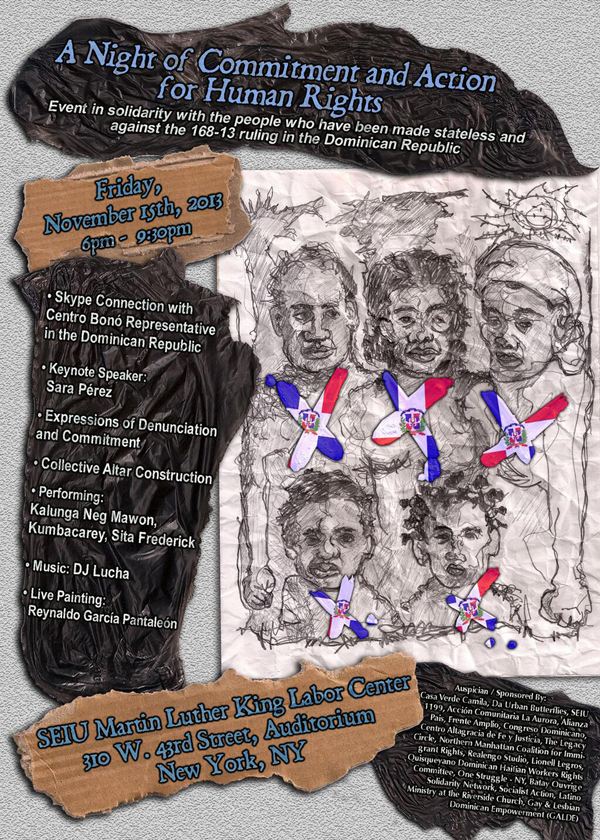 This past September 23, the Constitutional Court (the highest court!) in the Dominican Republic ruled that thousands of Dominicans, who have lived as Dominican citizens, protected by the Constitution and current laws for over 8 decades, are to be stripped of their citizenship. The decision made by the Constitutional Court will affect the lives of many students, workers, mothers, fathers, daughters, grandparents and children! People who are mostly Dominicans of Haitian descent, who have lived and formed families, contributed to the economic, social, political, cultural and spiritual development of the Dominican Republic. This ruling violates the human rights of Dominican citizens, born in the island, raised in the island- denying them a legal identity and causing the loss of or lack of access to the most basic opportunities/rights- employment, education, health care, travel, marriage/divorce, and housing. Furthermore, this law violates agreements with the Inter American Court of Human Rights, and the rights of children to identity and nationality.
As a group of young women, composed of mostly second and third generation immigrants of the Dominican Republic, we firmly oppose and repudiate the 168-13 ruling of the Constitutional Court in DR. Our parents are immigrants who have worked arduously and contributed immensely to the positive development of this country. As immigrants, we struggle every day against the many intersections of oppression – racism, sexism, xenophobia, capitalism amongst many other systems of oppression. We know human and civil rights violations first hand as we struggle for immigrant worker's rights in the United States. We demand that this law be revoked as it is a legitimization of racism and xenophobia, and pushes further back any possibilities of progress in the struggle for justice, equity and socio-political advancement in the DR. We unite with the thousands and thousands of voices who have expressed dissent, and in solidarity with our sister and brothers of Haitian descent who are, Dominican by right!
We invite our friends in New York to part take in the upcoming event to address the issue, and look for ways to have this ruling revoked. Si Se Puede!
In solidarity,
D.U.B.
Related:
Dominicans of Haitian Descent Cast Into Legal Limbo by Court | NY Times
No Ala Reforma NYC Protest In Pictures
Todos Somos Trayvon – Uptown Stands Up For Trayvon Martin
We invite you to subscribe to the weekly Uptown Love newsletter, like our Facebook page and follow us on Twitter, or e-mail us at UptownCollective@gmail.com.