BY Led Black (@Led_Black)
Photography by Art By Dj Boy (@ArtByDjBoy)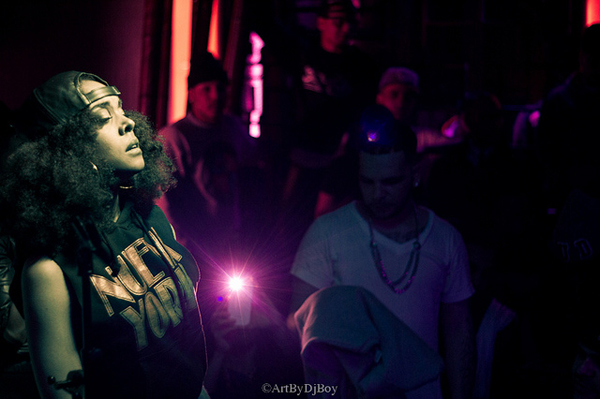 Uptown we made history on Thursday, February 28th at Negro Claro. The venue essentially reached capacity within minutes of the doors being officially opened, with a few hundred folks still left outside that could not partake in the awesomeness. In total, 40+ acts graced the stage that night. It seemed that all of Washington Heights and Inwood was in attendance for this epic and exceptional occasion. Not to mention, all the folks that came from far and wide to check out what this WHIN By Any Means thing is all about. What makes it even more special is that there was not one single incident of foolishness. Everything was love.
You can tell it was going to be a special night when the entire crowd, in unison, wished co-host E-Man's daughter a Happy Birthday via FaceTime. From there it was on to a marathon of simply amazing performances from Uptown's deep reservoir of talent. Hip-Hop, Spoken Word, Rock, Soul, Comedy and even Flamenco made this a truly next-level experience.
The fact that this has NEVER been done before Uptown was something that both the artists and audience were acutely aware of. Everyone brought their A-Game with a slew of special surprise guests thrown in for good measure.
Now that we made history just watch what the WHIN By Any Means Committee has in store for WHIN IV.
Related:
WHIN By Any Means III – A First Look
WHIN By Any Means III – The Compilation
#WHINIII – The Social Media Edition
WHIN By Any Mean III: A Q&A With Tellie Floydd
WHIN By Any Means 2.5 – The Recap
#WHIN By Any Means 2.5 – A First Look
WHIN By Any Means 2 @ Empire Fash – The Recap
WHIN By Any Means 2: A First Look
WHIN By Any Means @ Empire Fash – The Recap
We invite you to subscribe to the Uptown Love newsletter, like our Facebook page and follow us on Twitter, or e-mail us at [email protected].