BY Sara Martinez (@Saritology)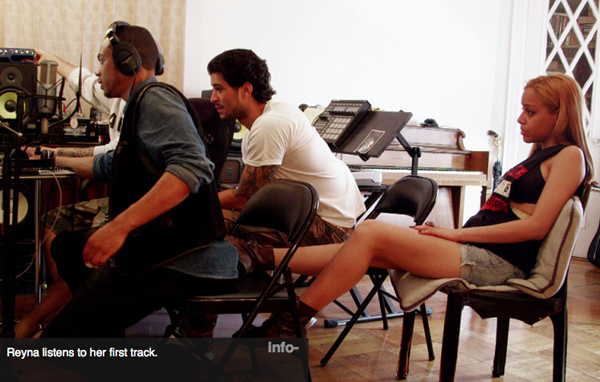 Sorry about last week guys. My dog ate my post. My computer got a virus from all those porno sites someone else visits on my computer. I was called on a secret mission by our President, Jason Bourne style. I got a cramp in my typing finger. I overslept. I was put on timeout. I was busy participating in Wife Swap. I was occupying my sofa. I had the flu. I went out to get milk, and got lost. I was unable to perform. I got high? Whatever the case may be, you might be wondering what happened last week. Well, here's my extremely short recap of last week:
Smooth Rico is struggling with stage fright. Rico's Hair however, is very confident that they'll do well on stage. Reyna's auto-tuned track is completed, and she's loving it, she's ready to get it in. Frankie, and Fred put together a showcase for their Washington Heights peeps at the Nuyorican Poets Cafe. Eliza gets a crown tattooed on her middle finger, and now teenage girls all over the country have crowns tatted on their fingers. She tells her friend about Jimmy's secret school applications that he doesn't share with her. Seems fishy.
Reyna's parents are getting divorced. Must be hard. I wouldn't know. I only ever had 1 parent, and she's dope. While eating pizza Chompy tells JP about going to school in Miami, and focusing on his career and making his dreams happen. At the Mad Hatter's tea party, Frankie organizes the show. Who's on first. What's on second, I Don't Know is on third. Frankie isn't playing the game, and tells Rico he gotta get it together. Manny, Reyna's boyfriend, is mesmerized by mason jars being used as cups, while Reyna discusses her parents' divorce. I think she needs to get over it. Or am I jaded?
Eliza confronts Chompy about his plans with school, and he starts being a bitch. He doesn't want to deal with an adult relationship. Makes sense, they're too young to be playing house. Eliza doesn't need to support his grills. She needs to be a young lady. Eliza, you listening to me? Do You! JP and Rico tell Chompers that he needs to focus on himself and not be mad, which I'm all for. They get their show together at the Nuyorican. Rico MC'd, I was disappointed that he wore a hat. Ludwin shows some of his art. Audubon raps and/or sings. Since he does both. Frankie is an astronaut in love. Jimmy plays Eliza and doesn't even say hi to her. Cold blooded. Eliza's dad fronted and didn't show up to her show. Then she sang her song about Cupid shooting her. The crowd ate it up. And that's what you missed last week, in very truncated fashion.
On to the next one… Episode 8
JP's on a date with a pretty young thang who wakes up at 5am. She's responsible. Then he gives homegirl the skinny on his broke ass ways. Then they went dutch. I support dutch. But don't think you're gonna get laid, if you can't pay for some nachos.
Eliza & her homegirl are sitting on the park bench I painted. Jimmy is down her throat, not trusting her. She recalls a story about her visit to the gym, she goes upstairs, sees him next to another girl on a stationary bike. She's suspicious, and her friend confirms the silliness. On a different park bench at Highbridge park, Chompy tells his version of the story: he was helping the girl out with the machine. Because, y'know, those bikes are mad confusing. You sit on it, you pedal but do you want a mountainous range? Do you want to go straight? What kind of resistance are you looking for? That's why I stick to the treadmill. Just run straight. The end.
In a studio, Audubon is making a video. Sounding like the Dominicano Drake, he becomes obsessed with a fly until dude behind the camera catches the fly with chopsticks ala Mr. Miyagi.
They take a group trip to Coney Island, while on the train they give you a shot of how far it is from Washington Heights. Mad far. New York City is huge. Frankie just tall enough to get on the rides, so hooray for her! JP is a scaredy cat, screaming and hollering on the swing. Lud gave Frankie a snake, no, not his snake, but, actually… that too. Reyna and Jimmy make nice and everyone's friends again.
Later, on a stoop, Frankie's rape whistle wants to talk about Jimmy and Eliza's relationship woes. Lud thinks they're too young to be in a relationship. Frankie ain't tryna hear any of that. Especially when they talk about sex being the problem. But most especially when Lud's mustachio talks about his relationship not working out and missing the sex. Then she got up and kicked him in the chest. Wait, that didn't happen, but it should have. Later, JP, Reyna and Taylor are having dinner, they talk about the mess that is Frankie and Ludwin, they agree to find Frankie a date. Can they find me a date? Can it be with Rico's hair?
Audubon's manager got the time wrong for a show. They get to LES, just to be turned away. Danny needs to use that calendar in his phone. Why don't people use their calendars? What's up with this manager? First there's the male stripper at Ibiza, with an anaconda in his pantalones, and now he's 45 minutes late to an 8 minute set? Negativo dude. You gotta be more organized. Next up, is his set at the barbershop/lounge/taco spot… What is Audubon complaining about though? What was he expecting in Queens? Seriously. Then their CD doesn't work for his music. Nothing works for them. That should teach them. You go to Queens to eat. Maybe to visit a boo. Maybe.
At Mamajuanas on Dyckman, Frankie, with her Freddy Kruger sweater, is told that she's getting set up with Taylor's friend. Frankie tries to plead that Lud won't have no one if he doesn't have her. Taylor says "he's got a lotta friends." She's down for the hook up. I don't do the blind date thing. I was set up on a blind date once. Dude was so fat, he looked like he was 12 months pregnant. He only spoke about getting stoned, being stoned, wanting to be stoned. Riveting. I told my friend never to set me up again. Especially when I hooked her up on a blind date, and now she's happily married, and a mother, and that's how she paid me back. Cold blooded.
Reyna goes in on the pizza. How is she so skinny, she's always eating? Kelvis, Taylor's friend, is all about Frankie. He's gonna get her pizza that makes her go "ooh yeah." Ludwin is jealous. He's acting up. Annoyed that she's having a good time with another guy. He complains to Fred, who sets him straight, they're not together, Lud can't have feelings about it. But as with matters of the heart, there is no rhyme or reason. Especially when you're young, dumb and full of… you know where I was going with that.
After his show at Karma, Audubon was approached by a cutie named Riggs who works at a major record label. He asked for three videos to get acquainted with his work, they dropped the ball, and they didn't follow through. Why? "Because he's just a rapper on stage with a mic." But he lets him know, you're lazy, don't have a hustle and you need to leave the Heights in order to make it. Audubon's mind was blown. If you hungry, you gonna go after it. Just like those little boys standing on the corner in 10 degree weather, getting their money. Just like dudes walking through the parks, selling Nutcrackers to parched customers, you need to find your passion, that drive, to make your money.
The episode ends with Jimmy and Eliza having a fight, but you can't understand what Eliza is saying because she's eating something. She doesn't want to fix him, and who can blame her. The dental bill alone will make a person go broke!
Will Kelvis take Frankie to get that pizza he was talking about? Will Audubon start to sell his mixtape on 125thstreet? Will Danny start using his smartphone calendar? Will Reyna and Eliza make nice and if so, why bother? If it's the Summer, and they went to Coney Island, why wasn't Rico in a bathing suit? Can he wear one next week? Will Ludwin's Mustachio secede from the rest of him and ask Frankie to go steady? Will Fred's Ears take a break from all the hard work they do listening to Ludwin's Mustache complain about Frankie not being his girl?
Check out:
MTV's 'Washington Heights' – The Weekly Breakdown: Episode 6
MTV's 'Washington Heights' – The Weekly Breakdown: Episode 5
MTV's 'Washington Heights' – The Weekly Breakdown: Episode 4
MTV's 'Washington Heights' – The Weekly Breakdown: Episode 3
MTV's 'Washington Heights' – The Weekly Breakdown: Episodes 1 & 2
Related:
Audubon of MTV's Washington Heights Featured In The New York Times
MTV's 'Washington Heights' – A Historian's Perspective
MTV's 'Washington Heights' – The Review
DJ Envy Gets A 'Washington Heights' Makeover | MTV
MTV's 'Washington Heights' – The After-Party
Go Behind-The-Scenes At The 'Washington Heights' Photo Shoot
We invite you to subscribe to the Uptown Love newsletter, like our Facebook page and follow us on Twitter, or e-mail us at [email protected].