BY Sara Martinez (@Saritology)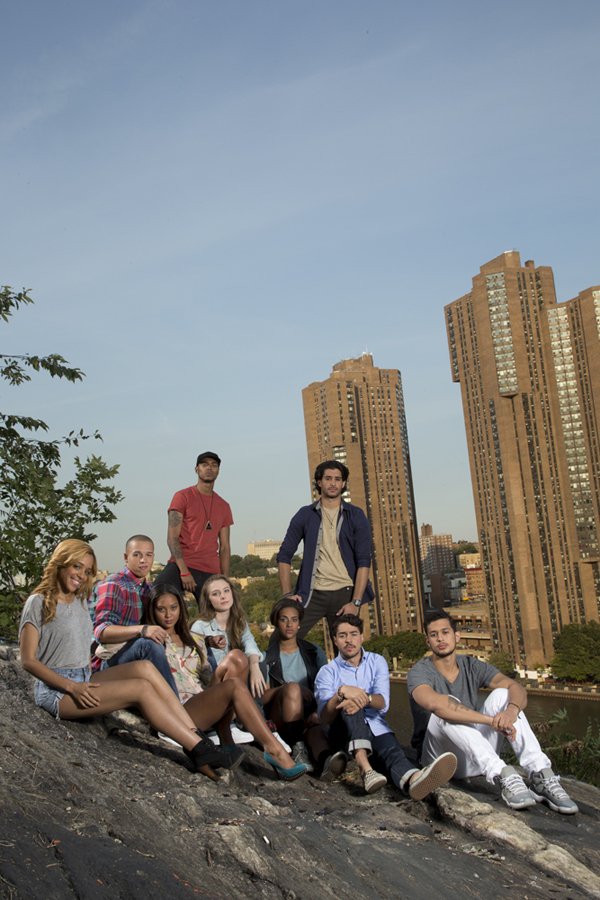 Welcome back to Washington Heights, home of Dr. Ruth, the sex expert whose tweets will make you blush! That being said, it should come as no surprise that this episode opens where the last one closed: with Frankie & Ludwin making out. Oh yeah! Get it girl! But don't get too much of it, be a lady! Ladies don't let the world know what's going on in the bedroom. Someone should tell Ludwin that it's not gentlemanlike to kiss and tell. And it's definitely not ok to tell your boys about the sweet, dirty, nothings she's whispering in your ear. C'mon man! Meanwhile, sitting on a rock, overlooking the East River and the project buildings of the Bronx, Frankie tells Reyna about her and Ludwin's mutual like for one another and how he kissed her! She's blushing, and gushing her way through the conversation. How does Reyna feel about their hook up? Well, she thinks its "soooo dope!"
Taylor is having a picnic with her new boo, Randy. In case you guys can't tell, everyone in Washington Heights, no matter the ethnic background, has a slight accent. Linguistic students could write a thesis on the different accents in New York City. You're welcome PHD students. They talk about her birthday plans, their first date, the long time it takes her to get ready… but did anyone else peep her bag? If she got that at that Goodwill Thrift Store in Washington Heights, I'm going to go everyday… starting today, during this Arctic Blast. Maybe I won't have to fight those tough viejas who think they own the store. I don't care how hard you fought off Trujillo's advances; I'm not scared of you! Ok, maybe a little. But still, I found that shirt first!
Later, at her 21st birthday party in Ludwin's apartment, the gang gets wild. We know it's going to be a crazy night because Rico has a velour jacket on and his luscious locks gelled back like a telenovela handsome villain, who is really the hero. They're playing beer pong. I would rock them in beer pong. They're having cupcakes baked by Frankie, and Lud. Shout-out to the degenerate smokers in the hallway, sitting on the stairs! They look like they're having fun. You know what else is fun? When I defeat people in beer pong, people doubt my skills because I wear glasses. People stay sleeping on chicks with glasses. Suckers.
Fred has a girlfriend? Of course he does! He's so together, don't you get that yet guys? He's the one that's together. He's creative, he's sweet, he tall, he's got big Obama-like ears, he has a job, an internship, he's starting his one clothing design company, he HAS to have a pretty girlfriend! He's trying to get rid of his mom, and not because he wants an open crib (OPEN CRIB!) but knowing Fred it's because he wants her to start her new life in Florida, where she'll be more comfortable and blah blah blah. Whatever Fred, thanks for making all of us (me) look like selfish jerks because we (I) want our (my) mom to move so we (I) can get that rent stabilized apartment!
Frankie and Taylor finally admit they're broke and need new jobs. Rico is looking for motivation. Lud gets some real talk from Taylor about the deal with Frankie, he acts brand new, and turns to Fred. Frankie likes Lud, Lud likes Frankie. What's the problem? Lud is young, and an artist who is going to be on MTV. Bitches love artists, bitches also love MTV. He wants to live!
Rico gets women to pay for things, it's that hair. And his height. He's tall, dark, and handsome, but being broke ain't cute. You know what else ain't cute? That flip phone. Can you text on that thing?
Do you even have caller ID? Then Fred yells at Rico, and throws his gift in his face. Sure Rico's thought process is… off, to say the least, but if you do something for someone you don't throw it in their face. Dominicans call that sacando en cara. But don't worry JP to the rescue! He sets it straight by being the voice of reason, which leads to the Rico and Fred heart-to-heart that makes Fred sob and heave. Fred is an ugly crier. I like you Fred, you are a good dude, but don't cry again. Even though my Twitter feed exploded with women loving a man who cries.
At another sexy spot in the Heights, Ludwin is kicking his game to a girl. I wonder what he said when she asked him what's he do for a living, "um, I'm a dog walker. It's dope." I'd be like "oh you like my pants? Have a better look now," then I'd walk away. Ain't nobody got time for that! Frankie goes to look for him but she sees him talking to another girl then she bounces. He notices and goes after her. Will they or won't they? The suspense! Nah, not really, they will, at least for a little while.
This episode is making me think, why do Dominican grandma's love birds? I hate birds. They make so much noise! Did Lud capitalize on his grandmother being the helado lady? What's your favorite flavor? I'm a coco or rainbow gal, depending on what kind of coco it is. I don't like the Italian Ice version. When is Alexis going to just go to jail? Do your bid already dude! You do know that jail is NOTHING like HBO's Oz right? Will the cameras follow Lud as he takes that van by Yankee Stadium to Rikers Island? When will Rico be on stage at the Upright Citizen's Brigade? And can we come? And will he be shirtless?
Check out:
MTV's 'Washington Heights' – The Weekly Breakdown: Episodes 1 & 2
MTV's 'Washington Heights' – The Weekly Breakdown: Episode 3
Related:
Audubon of MTV's Washington Heights Featured In The New York Times
MTV's 'Washington Heights' – A Historian's Perspective
MTV's 'Washington Heights' – The Review
DJ Envy Gets A 'Washington Heights' Makeover | MTV
MTV's 'Washington Heights' – The After-Party
Go Behind-The-Scenes At The 'Washington Heights' Photo Shoot
We invite you to subscribe to the Uptown Love newsletter, like our Facebook page and follow us on Twitter, or e-mail us at [email protected].