BY Led Black (@Led_Black)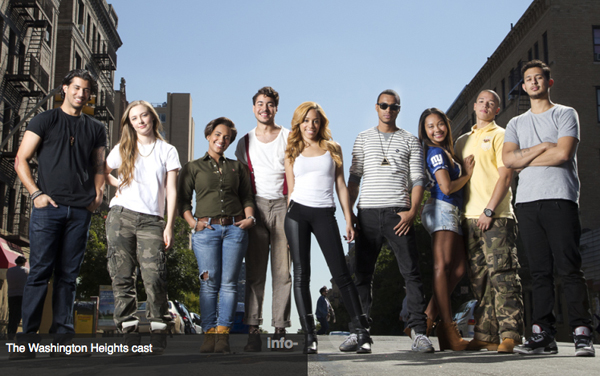 Before we get into what MTV's latest reality series Washington Heights is, let's get into what it is not. It is NOT the Jersey Shore. There are no Latino versions of Snooki, The Situation and JWoww here. Secondly, these are NOT actors; these are real people trying to make a dollar out of the proverbial 15 cents. Lastly, this is not entirely an MTV creation per say, in actuality, some amazingly talented individuals from Washington Heights had the idea of making this happen and they proceeded to do so. That alone merits praise and kudos.
Now to the good part, first of all, the cinematography is top-notch. The actual, physical beauty of Washington Heights is on full display for the entire world to see. Washington Heights is more than just a setting for the show; the mystique, sounds, sights and vibes of our beloved neighborhood are rendered in ways than have never been done before. In addition, as a Dominican, a Latino and a person of color, it feels remarkable to see young Latinos doing positive things and aspiring for greatness instead of the usual stereotypes that are often pushed on network TV.
For me, MTV's Washington Heights represents a paradigm-shift, a new beginning. From this point forth, Washington Heights will be viewed as more than just the open-air drug market that it was in the late 80s and early 90's. This neighborhood has been undergoing a resurgence for quite some time now that I dubbed "The Uptown Renaissance" a few years back and this show is proof positive of that.
By this time tomorrow, people in Washington Heights and around the world will have fallen in love with JP, Frankie, Ludwin, Reyna, Taylor, Jimmy, Eliza, Rico and Fred and that is a good thing for Washington Heights, Dominicans, Latinos and ultimately this country. Washington Heights Stand Up!
Pa'Lante Siempre Pa'Lante!
"Washington Heights" premieres tonight on MTV at 10/9c.
Check out: http://mtv.com/shows/washington_heights/
Related: The Audubon Listening Party – The Recap
We invite you to subscribe to the Uptown Love newsletter, like our Facebook page and follow us on Twitter, or e-mail us at [email protected]