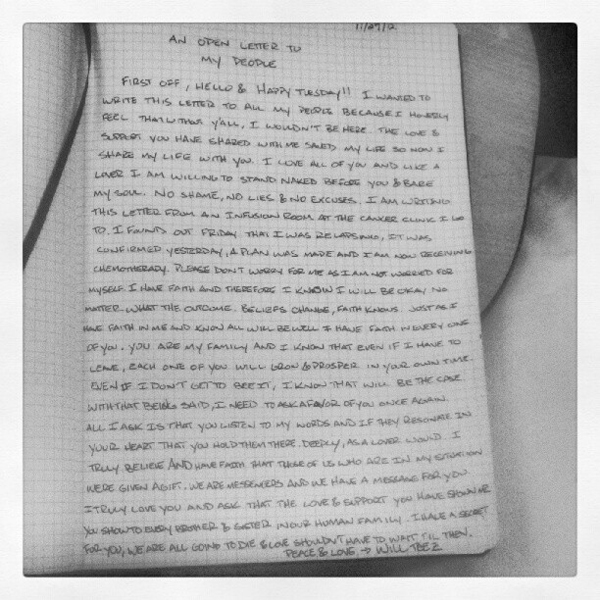 First off, hello and happy Tuesday!! I wanted to write this letter to all my people because I honestly feel that without y'all, I wouldn't be here. The love and support you have shared with me saved my life. So now I share my life with you. I love all of you and like a lover I am willing to stand naked before you and bare my soul. No shame, no lies and no excuses. I am writing this letter from an infusion room at the cancer clinic I go to. I found out Friday that I was relapsing, it was confirmed yesterday.
A plan was made and I am now receiving chemotherapy. Please don't worry for me as I am not worried for myself. I have faith and therefore I know I will be okay no matter what the outcome. Beliefs change, faith knows. Just as I have faith in me and know all will be well, I have faith in every one of you. You are my family and I know that even if I have to leave, each one of you will grow and prosper in your own time. Even if I don't get to see it, I know that will be the case.
With that being said, I need to ask a favor of you once again. All I ask is that you listen to my words and if they resonate in your heart that you hold them there, deeply, as a lover would. I truly believe and have faith that those of us who are in my situation were given a gift. We are messengers and we have a message for you. I truly love you and ask that the love and support you have shown me you show to every brother and sister in our human family. I have a secret for you, we are all going to die and love shouldn't have to wait until then.
Peace & Love
Will Teez
Related:
The Farewell To Will Teez In Pictures
Will Teez B-Day Fundraiser @ Le Chéile In Pictures
Help WiLL TeeZ – Beloved Local Figure Fights Leukemia
We invite you to subscribe to the Uptown Love newsletter, like our Facebook page and follow us on Twitter, or e-mail us at [email protected].