By Octavio Blanco (@OctavioCNN)
[blackbirdpie url="https://twitter.com/OctavioCNN/status/267560866826825728″]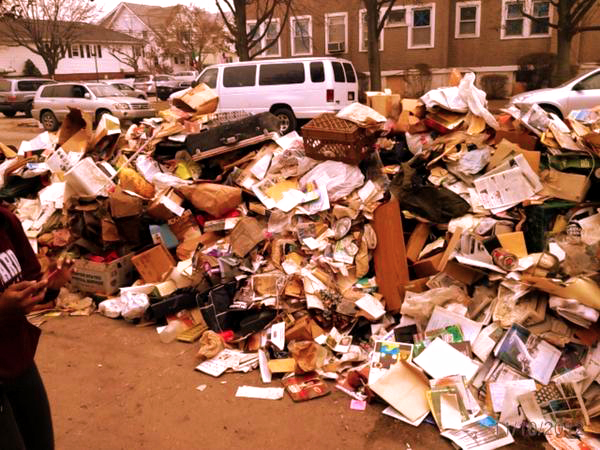 Rock, rock Rockaway Beach…we can hitch a ride to Rockaway Beach – The Ramones


It's 9 a.m. and I'm sitting on a bench in front of Starbucks on 181st street and Ft. Washington Ave. At my feet are a couple of oversized blue plastic bags from Associated stuffed with sweaters, a sleeping bag and pampers. On them I've perched a crude sign: Washington Heights –> Far Rockaway Hurricane relief. A dog is tied to the bench with me.
Earlier in the week I'd sent out a call to action over Facebook and Twitter hoping to motivate friends and neighbors to troop it from the Heights out to Far Rockaway on public transportation to help Sandy's victims. I had been out there last Tuesday helping clear a basement. The devastation is heartbreaking.
Now the dog and I are both nervously waiting outside of the coffee shop.
My nervousness: "Will anyone show up?" The dog's nervousness (I soon found out): It had to pee. Luckily the dog missed the bags. So far, so good.
My buddy Anthony had called earlier. He's running late, but he says he's coming. I don't want to doubt him but part of me does, only because I know if it was me, instead of him, I could easily just push the snooze button to the point of no return.
But I won't be going it alone. The first volunteer, Candace, arrives at 9:30.
It turns out she's not from the Heights. She's a teacher from Washington DC. She's visiting family in Bed Stuy and saw my tweet via @Uptowncollectiv (UC! Thanks again by the way.)
I felt guilty that she came all the way uptown but she's unfazed. She's happy to be here and looking forward to help. Previously, Candace volunteered in New Orleans after Katrina. She says this trek is no big deal for her. God bless her!
Soon after, Anthony arrives. He's carrying a bag of goods too. Sweaters, a blanket, kids clothing, baby formula and more diapers.
Baby food and diapers are desperately needed in Far Rockaway.
It's getting close to 10 and we're preparing to go when the Starbucks manager comes to the sidewalk and hands me the phone. It's Robin on the line, a reporter from the Manhattan times. Her editor has just approved her story and she wants to come with us.
"Can we wait just a bit longer," she asks. She's on 168th. "Sure, I say. But hurry please. We're itchin' to go." She says she'll grab a cab.
Now my phone buzzes. It's Jeremy, my college buddy. He's driving to Far Rockaway from Williamsburg. I give him coordinates to where we'll be. Hopefully our timing will work. Robin arrives and we head down into the 181st street station.
I feel like I'm in a weird version of the movie The Warriors. "Warriors-s-s … come out and heh-eh-elp." It's corny, but it made me chuckle.
The train ride is fairly smooth, especially considering it's about a week after the hurricane and even worse – It's a weekend!
We jump on the "A" to Fulton Street. Transfer onto the "5" to Flatbush Ave. A minor wrinkle makes us switch to the "4" at Bowling Green then the "2" at Franklin Ave to Flatbush Ave. The subway ride takes about an hour.
My phone buzzes. It's Kim. She's an uptown neighbor. Saw your tweet, "We are heading down to St. Francis now! I'll txt you when we get there." She probably sent that about an hour ago.
At Flatbush we transfer to the Q35 bus leaving from in front of the Target on Avenue H which will take us to our destination in Far Rockaway.
The 40 minute bus ride is in bumper to bumper traffic: rescue vehicles, relief workers, National Guard. The bus is standing room only, packed with people from all over the city steaming in to help.
Locals on the bus who have been living without electricity, gas or water for about two weeks are visibly uncomfortable on the bus. Part of it seems to be the fact there's nowhere for them to sit but also it's partly a reaction to the giddy energy the volunteers bring.
A man on a cell phone is complaining to his friend, "white people be takin' pictures and smiling. They don't know what it's been like."
But no one is left smiling once we cross the bridge onto the island. The immense parking lot for Jacob Riis Rockaway Beach has been transformed into a giant landfill, piled about ten feet high with debris from destroyed homes and businesses as far as the eye can see. Seagulls look like a swarm of mosquitoes on the horizon. Suddenly the mood becomes much more somber.
In five minutes we arrive at Beach 129th Street it's about 1 p.m.
We're surrounded by people clamoring to rebuild their lives. The scene at St. Francis De Sale Church is different than it was on Tuesday. There are more people seeking assistance and more people offering help. It's on the edge of chaos.
We drop off our supplies in the gymnasium where I run into a reporter friend. She says tempers are on edge. Seems the church is asking for ID from folks seeking assistance to make sure they're from the immediate community. The scene is too chaotic and the info too loaded for me to do anything with. I look for the volunteer table that was there last week.
I can't find it. I can't find Kim. She's sorting donations somewhere in the church.
Our little group is sticking together, taking in the scene. It's their first time here and I think they're in a bit of shock, plus we're hungry. We spot a nearby outdoor grill offering free burgers to volunteers and residents, we scarf 'em down.
Jeremy texts me. He's around the corner and could use our help unloading.
After dropping his donations our crew, now five, is directed to a work assignment area a few blocks away. Unfortunately when we get there it's closed – they aren't assigning crews anymore. Undaunted, our uptown bunch goes door to door asking people if they could use a hand.
Within a few blocks we encounter a group of folks from the Church of Jesus Christ Latter Day Saints clearing out a man's home.
Saltwater flooded his home up to the ceiling of the first floor and contaminated everything. We spent hours there helping to take out his life's possessions so the place could be gutted and rebuilt. Not sure how else to say this – he was a hoarder – we must have taken out a ton of ruined stuff.
The sun is beginning to go down now and nearly everything that was touched by water has been removed. I take a peek into the second floor. It's dry, but piled floor to ceiling with more stuff. It'll need to stay that way. I feel sad because hoarding is a mental illness. It's also a threat to the hoarder's and others' health – and there's nothing more I can do for him.
Our uptown crew regroups and we decide to decamp back to the church to seek more work. On our way there we run into Kim and her boyfriend. They look exhausted and frazzled. They tell me that they've been sorting and distributing goods all day. Tempers were short. Seems folks are coming back over and over for stuff (prompting the ID check.) I'm torn. I wonder if maybe that's because folks really need stuff or are collecting for home-bound neighbors… who knows?
"Hey it's Ray Kelly!" Someone yells. The police commissioner has just arrived. I've never seen him in person. He's older looking and more diminutive than I've ever noticed. He's downright tiny.
Kim heads home, we head to the church. Anthony's cousin is there. He came down from upstate with a group from his church. We soon realize were all exhausted and the coffee from the warming tent is sounding really good. We go in and grab coffee.
A woman is sitting alone, eating pasta from a Styrofoam plate. She strikes me as stoic and distinguished. I ask if we can join her. She seems happy I did. We all sit and strike up a conversation. She speaks in an Irish brogue. She could be one of my Inwood friend's grandmothers. She recounts the night of the storm. Her neighbor died trying to rescue the dog from the flooding basement. She said being in her house felt like being in a rough storm at sea, with waves and wind crashing over it. It sounds terrifying. "I was so scared, I thought I was going to die there," she says. We all sit and ponder that statement.
We're glad she's alive, we're glad we're alive. The Ramones' "Rockaway Beach" plays on the radio and I like it.
Now it's almost dark.
Jeremy offers us a ride to the "A" train and we go together. Robin interviews us on the ride. Some highlights: New Yorkers are awesome in times of crisis. It's easy for us to return to our normal life. There's so much more to be done. For the people in Far Rockaway (and New Jersey, and Coney Island, and Staten Island, and Haiti, and Cuba and all up the east coast) it's still a catastrophe.
We get to the A-train. The conductor closes the doors too fast on us and then complains over the loudspeaker for us not to hold the doors. And then suddenly, "WHAT TIME IS IT!? SHOWTIME!" The B-boys blast their radio and the train is happy as they dance. We sit back into our chairs and finally breathe, tired and happy.
New York keeps on moving, and we're part of it – and we love it.
Rock, rock, Rockaway Beach!
Related:
Hurricane Sandy: An Uptown Perspective
Pics From the People: Hurricane Sandy – The Aftermath
We invite you to subscribe to the Uptown Love newsletter, like our Facebook page and follow us on Twitter, or e-mail us at [email protected].