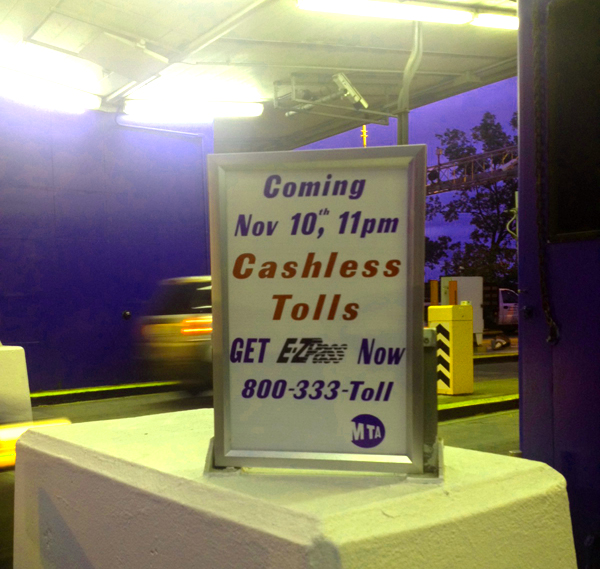 October 19th, 2012
When I heard that the MTA plans to increase fares on bridge tolls citywide, it immediately reminded me of a friend, Paulo, who whenever he heard or saw something maniacal would say, "What goes on in there"? He was referring to the mind that produced such thoughtless and illogical behavior and that's why the MTA's decision reminded me of Paulo. But this decision wasn't only thoughtless and illogical; it showed a complete lack of consideration and concern, as the adverse affects of their decisions will certainly, and at the very least, double an already existing crisis in our community.
You see, what's being reported is that the Henry Hudson Bridge (HHB) toll will not only be increased to top its current toll of $4/each way for non-EZPass tag holders before the year is out, but they have also announced that the cash booths will be terminated and only EZPass tag holders will be accommodated on this bridge as of 11 pm on November 10th, 2012. Yes, only 3 weeks notice (by approximately 11"x14" eye level posted unassuming signs at the cash tolls). Non-EzPass will still be able to use the bridge but their license plates will photographed and they will be billed by mailed. According to the NY Daily News, "The MTA will impose late fees and violations on drivers who don't pay within a set time limit."
Yesterday, I traversed both directions of the HHB – South bound at 7:50 am and Northbound at 6:30 pm, and saw MTA employees handing out fliers to cash patrons… and the cash line at both times was over 20 cars long. So if this long line of cars and the thousands of others who use the cash lanes do not attain an EZPass in 3 weeks, they will be spat out at the  "last exit before the toll," – Dyckman St. when heading Northbound and Kappock St (Riverdale), Southbound.
Is the MTA oblivious to the single biggest problem we've had in years in Inwood – the upsurge of traffic along Dyckman St. and Riverside Dr. due to the meteoric success of new businesses, such as La Marina and others, and the poorly laid out traffic patterns in Dyckman St's bottle-necked western corridor. They must know that ever since the toll was created, many drivers, especially car service drivers, have avoided paying tolls by exiting onto Dyckman St., and finding their way through Inwood to the Broadway Bridge and back onto the Henry Hudson Parkway North via Riverdale, and visa-versa from Riverdale to find their way to Dyckman Street's Southbound entrance onto the West Side Highway. Cars avoiding the toll speed through the community causing dangerous situations, and this has led to Inwood residents fighting for and attaining traffic calming devices and West of Broadway has been designated a "20 MPH Slow Zone."
The HHB cash lanes have been a Godsend that alleviate the traffic from thousands of cars a day driving through our community, by allowing those who can afford it and those who feel it is worth spending the overpriced toll amount to save time. By terminating the cash lanes, the cash drivers will be forced to drive through the few avenues in Western Inwood that lead you to the Broadway Bridge, and this will cause unprecedented traffic. It will get so bad that drivers will quickly learn that even Dyckman St is not an attractive option and will exit earlier and start up Broadway from either the 181st or 190th St exits (both exit onto one lane streets prior to reaching Broadway). The other option will be for cars to take the Harlem River Drive North to its end at Dyckman St and 10th Ave, then find their way to the 207th St Bridge and connect to Route 87 North (Major Deegan Expwy), all which are miserably congested during rush hour as it is.
Basically, our entire community of Washington Heights and Inwood will become a slow moving parking lot. There really isn't anyway around it, unless the MTA leaves the cash lanes open. We have 3 weeks to lobby anyone and everyone who can affect this poorly thought out… no, I'll call it for what it is… this thoughtless decision.
This was a tough summer for traffic around Dyckman St. But its local businesses, NYCDOT, NYCDP&R, the Community Board, 34th Pct., and other stakeholders seem to have assured the community that they will work together to plan for a better next year by possibly changing traffic patterns, requesting that folks not bring their cars when coming to Dyckman St establishments (sort of how we, New Yorkers, learned to do around the Times Square area), and entertain any ideas that can help. If the cash lanes are closed, all of our work will be for naught, as we just can't handle thousands of more cars a day. If we fail to lobby keeping the cash lanes open, we know who to blame for the disaster coming our way.
To make matters worse, this is a pilot program and our neighborhood has been chosen as the guinea pig. Thanks MTA for not taking local conditions into consideration for your grand scheme of making it easier to enrich yourselves at our expense.
A few final thoughts: we already have some of the highest asthma rates in NYC and the additional cars running down our streets will not help; since the 1990's, millions in tax dollars have gone to construction on the HHB (and it's still being worked on), and I'd approximate lane closures in both directions to have covered over 80% of the nearly 20 year period (I would bet we could have built another brand new bridge with money we dumped into repairing and "upgrading" this one). Maybe they only care about us when we hop on and hop off their bridge, and could care less what impact their decisions have on us when they force thousands of cars into our communities.
Lastly a question, has the MTA discussed their recently announced plans with the NYC agencies, such as the Parks Dept., DOT, 34th Pct., CB12M, and elected officials? Why at a community board meeting just 3 days ago that included addressing traffic concerns on Dyckman St with some representatives of those agencies was this not brought up?
I can't help but remember my friend Paulo when I think of the MTA's decision, and him saying, "What goes on in there?"
Zead Ramadan
Uptown Advocate
We invite you to subscribe to the Uptown Love newsletter, like our Facebook page and follow us on Twitter, or e-mail us at [email protected].