BY Eileen Z. Fuentes (@EileenZFuentes)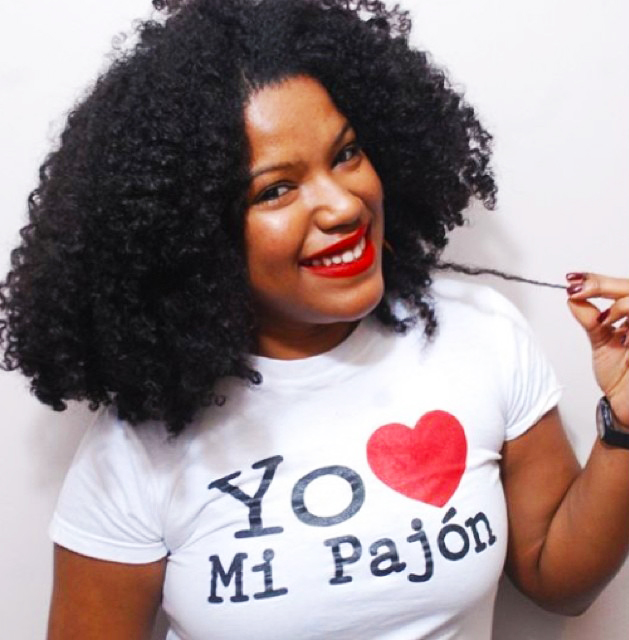 Over a decade ago, when I first decided to leave my hair in it's natural kinky state and free of chemical relaxers, the response from many in my mostly-Dominican community was outright negative. If you didn't notice, hair and beauty are a big deal in Washington Heights and the fact that I chose to go against the grain shocked many. It is why I was surprised when I discovered missrizos.com, a natural hair blog based out of the Dominican Republic created by Carolina Contreras. We have since become friends and so it was natural for me to find out a little more about her hair journey. In my opinion, her influence is taking the DR by storm. And the fact that she grew up in the United States and speaks English fluently, gives her an added advantage to reach an audience beyond the island. Last week Carolina gave me the good news that she was stopping by New York City briefly and is having a meet-up on Saturday night. My interview, related videos and details about the event are all below.
Q. Could you tell me a little about your hair journey? Did you ever relax your hair? If so, how old were you when you did and why did you do it in the first place?
A. My mom relaxed my hair when I was about 8 or 9 years old. I didn't really have a choice in the matter; she was fed up with my unruly hair, as if it had done something terribly wrong, to both of us. She relaxed it so that it could be "more manageable" and so that she wouldn't have deal with it. As I grew older I continued relaxing my hair because I thought it was what I had to do to look beautiful. Every two months I went into a beauty supply and bought a relaxer, a peine de palito (fine-toothed comb), rubber gloves and just like that I bought my beauty. I hated my new growth because I believed it was "malo" (bad) and that I looked dirty with the two textures.
Q. When did you decide to go natural and why?
A. Two years ago after more than 15 years of relaxing my hair, I simply decided to stop. I tried many times before, but I always created lame excuses like, "I'll wait until I turn 30 and then I'll just cut it all off." I decided to go natural because I was curious to see what my natural hair looked like. I seriously couldn't remember it at all. At first, I couldn't stop touching the back part of my hair or what is known as the "kitchen". I also felt like it stopped making sense to me. After a trip to the salon, I never felt entirely beautiful and I felt enslaved to that process. I was tired. I was ready to leave all that behind and embrace all of me, curls and all.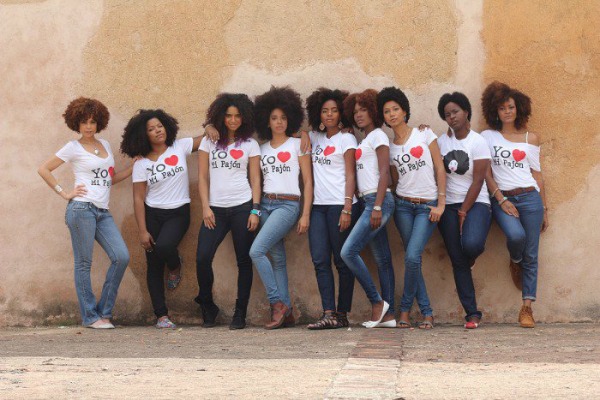 Q. As a Dominican woman who went natural more than 10 years ago, I know the reaction from our community can range from curious to downright cruel. You live in the Dominican Republic. Can you tell me what the reaction was like there (from both men and women)? Have you noticed a different (positive or negative) response from non-Dominicans?
A. Well, let me tell you that it got so unbearable that I was ready to buy my ticket back to the United States (where I grew up). I remember coming home one night and writing about what was happening, the piece was titled was "How my country kicked me out." It was that bad! I talked about it with friends and intellectuals who really helped me work through this because let's be real, at the end of the day it's YOUR process. So as I am working to on advocating and defending natural hair, I am working on me. Every so often I get a, "that's a nice pajon!" or "I like your hair", but most often I get negative feedback from all types of people. The latest one is, "So, do you plan on relaxing it ever?" I would lie if I say that it doesn't affect me at all, it does, but I am much better with it. I keep it moving. I really love my hair, I love being black and I love being human, that is all.
Q. Fast forward to the present and natural hair has taken the world by storm. As a mother of 3 little girls, I am particularly interested in the message we are sending to children. Have you noticed a shift in the way beauty is being defined?
A. Totally, I think it's one of the reasons why I continue on the path of advocating this new definition of beauty. I see a lot of blogs now on being healthy and curvy, natural hair, fitness, healthy eating, and just women empowerment in general. For me, the process of change is slow in the DR, but there seems to be a slight shift.
Q. So let's talk about food. Do you have any suggestions for caring for your hair from the inside out?
A. Oh my, I love food! Seriously food makes me so happy and I would say that food and I have a really good relationship. The health of our hair actually starts from the inside out. That's why I drink tons of water, eat dark green leafy vegetables, beans, nuts, and foods that are high in vitamins A, C, and B12, iron, biotin, protein, zinc and other nutrients. The key is a really balanced diet. Right now I am being really motivated by two blogs HeyFranHey and Food Heaven with Wendy and Jess who have motivated me to do the unthinkable… to drink green vegetable-based juices and smoothies. I've heard of all of their benefits, but to me it looked like sofrito and I thought it would taste leafy or nasty. They encouraged me to just try it and I did. I've been doing for two weeks and everyone is telling me that I look like I am glowing lately. I absolutely love it!!
Q. Any edible homemade conditioner recipes your willing to share with us?
A. Of course! There are so many!! My personal favorite is one that I prepare called "un chin para el cabello y otro chin para tomarlo" (a little for the hair and a little to consume). I begin by blending mangos, bananas and lechoza (papaya). I then put some aside to drink and add olive oil and honey to the mix for my hair! Some people add in an avocado and others put in some yogurt. This mix leaves your feeling super moisturized and soft.
Q. I recently wore my "Yo Amo Mi Pajon" t-shirt the day of the Washington Heights (post-Dominican parade) gathering and the reaction from everyone was crazy… in a good way! Can you give us your definition of the word "pajon" and more importantly tell our readers how they can order their own t-shirt?
A. Glad to hear that! Some people find the word offensive and negative. For me it is just one of the many ways I refer to my hair. I would say that the direct translation is "Big Ass Afro" or simply a "BAA"! I actually wrote an article addressing this issue: http://www.missrizos.com/2/post/2012/6/el-pajn.html
Every so often the t-shirts go on sale for U.S. readers, but I am still working on a method for having them available consistently. I am also working on new t-shirts with new phrases such as "Mi Cabello Natural Es Profesional" (my natural hair is professional) and "Yo Amo Su/Tu Pajon" (I love your messy hair)!
Q. Is there anything else you'd like to share?
For those who are thinking of going natural, try it! It's nice going to the beach, the pool, sweating, and being caught in the rain all without worrying about your hair, it's really quite liberating!
To learn more about Miss Rizos, you can visit her blog, like her page on facebook or follow her on twitter.
Related: At a Santo Domingo Hair Salon, Rethinking an Ideal Look | NY Times
We invite you to subscribe to the Uptown Love newsletter, like our Facebook page and follow us on Twitter, or e-mail us at [email protected]