BY Eileen Z. Fuentes (@theSPEACHgal)
Photography by Briana E. Heard (@beheardphoto)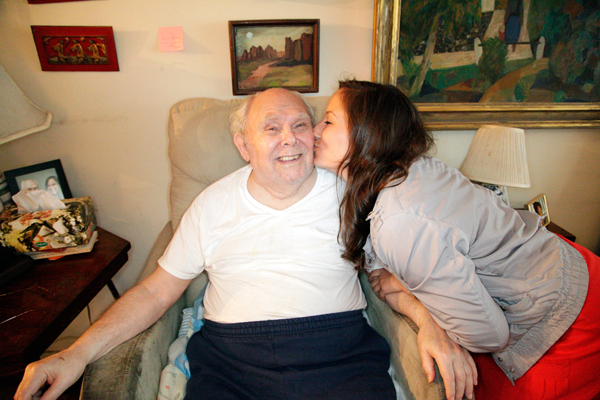 Laura, who is a volunteer at DOROT, an organization dedicated to enhancing the lives of the elderly and bringing generations together, greeted us and introduced Briana and I to Arthur. He immediately lit up and asked for a kiss on the cheek. What a charming man 87-year-old Arthur is! As we were getting ourselves prepared, he was chomping away on his corn on the cob. He answered a series of questions in between bites. First in one-word answers, then with a little nudging from Laura, he started to reveal more and more details about his very-interesting life. There was not one thing he didn't say that didn't make him (and us) laugh.
Arthur Gewirtz, a lifelong New York City resident, was born in Williamsburg, Brooklyn and is the eldest of 3 siblings. He is a highly educated man who earned his undergraduate degree from Columbia University and his master's degrees from Long Island University. He went on to become an Associate Professor at both The New School and Hofstra University and is a published Author. After all those years as a student, he reflected back to the period when he was in elementary school and the kids would pick on him, calling him names like "farty Arty and "sissy". I couldn't wrap my head around that since he was clearly a bit of a flirt and admitted to us that his first wife was actually a much-younger student in one of his college classes. He had 4 kids with her, 2 daughters and 2 sons. He also has 4 grand-kids. His second wife was a classmate. Despite the age difference, he has outlived both.
The conversation got really interesting when Laura showed us a vintage photo of a truck displaying the name of his father's doughnut shop. And you know what… according to Arthur; his father was the first person to ever make a glazed doughnut but referred to them as "honey-dipped" instead! He never got formal credit for it but between you and me, I totally believe him. There were far too many details he provided that supported his statement. While he liked the way these pastries tasted, he didn't particularly enjoy the constant odor of the fried sweets making their way into his apartment located right next door to the shop. But the real reason why he didn't eat them as much as he liked is because his mother would often reject the idea and forced him to eat healthy, kosher meals instead. He admitted in his youth, he smoked a pack of cigarettes a day but stopped because he wanted to be around to see his children.
At 18, right after finishing high school, Arthur enlisted in the Navy for 3 years, which allowed him to pay for his college expenses. He traveled on a ship visiting places like Hawaii and the Pacific Islands. After completing his time in the armed forces, he continued to travel all over the world, going to places like Africa, Europe and even spent a year in China during a sabbatical. Nowadays his routine is pretty simple, he still writes often (he hates the television), talks to his brother and sister daily, and from time-to-time he goes to the theater.
I asked Arthur to reflect on some of the high points in his life. As a child, he loved the sensation of a gentle breeze against his face. He describes the happiest time as "wonderful" and it was when he started college. He enjoyed meeting new people, and learning new things. Oddly, he describes visiting Manhattan during this time and getting to know it on a much more intimate level. As he grew older, Arthur admitted that writing his books was extremely stressful. He also felt that he didn't do enough for the women in his life. He loved dancing as a young man. Nowadays, he enjoys visits from his family but says they're often busy and so he doesn't see them as much as he'd like.
Arthur Gerwitz attributes his long life to good genes and luck but when I asked him what he thought the secret to his long life is, he responded, "I love life and that is all" and then began to sing a song with similar lyrics. From what Laura tells us, Arthur is always singing.
You can keep up with Arthur on Laura's blog at arthurandbernie.com and see Arthur do a little song and dance here.
Check out:
The Elixir: Secrets of a Long Life – Don José
The Elixir: Secrets of a Long Life – Hilda Garcia
The Elixir: Secrets of a Long Life – Pilar De Jesus Gonzalez
If you would like to nominate your grandparent for the series, please let us know at [email protected].
We invite you to like our Facebook page and follow us on Twitter, or e-mail us at [email protected].