Today's Throwback Thursdays is dedicated to the loving memory of Merlin German. Known as the "Miracle Marine", Merlin sustained burns to 97% of his body and even though he was given only a 3% chance of survival, German astounded his doctors by fighting back and recovering to the point that he was able to leave intensive care and walk on his own. He passed away on April 11th 2008 after the 150th operation. 189th Street and St. Nicholas is now proudly known as Sgt Merlin German Way. Last year we ran a poignant piece written by one of Merlin's childhood buddies Maury Matos. I think it deserves another read today.
Check out: Merlin German Remembered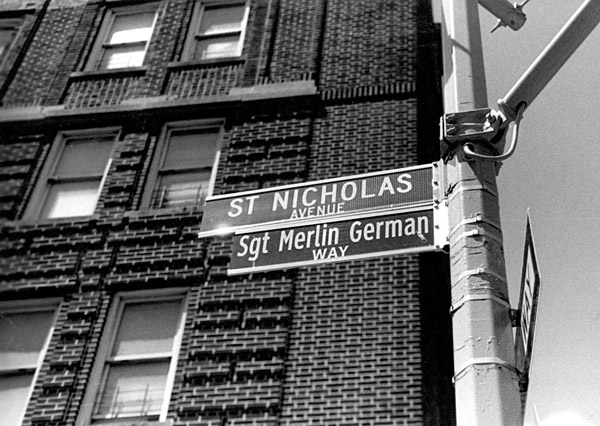 This post originally appeared on June 13th, 2011.
Throw Back Thursday highlights some of the best content from the extensive Uptown Collective vaults every Thursday.
BTW:
Throw Back Thursdays: The Nutcracker
Throw Back Thursdays: Uptown Gem – The New Leaf Restaurant & Bar
Throw Back Thursdays: Summer in the Heights 2011
Throw Back Thursdays: Trinity Church Cemetery Portfolio
Throw Back Thursdays: Nostlygia – The New American Classic
Throw Back Thursdays: St. Patrick's Day Edition
We invite you to like our Facebook page and follow us on Twitter, or e-mail us at [email protected].
[subscribe2]