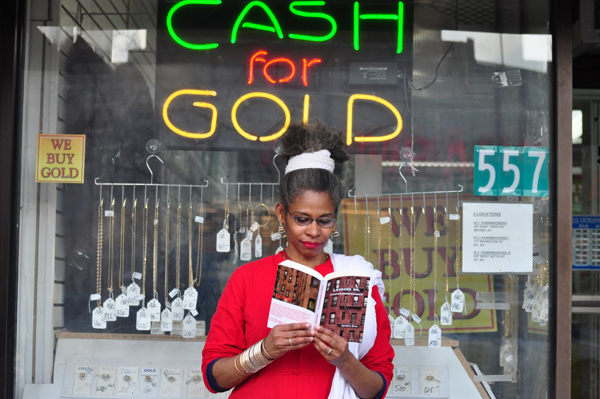 "Llegué yo, la hija de Esperanza
la billetera. Cobrá, cansá, cabriá,
con celular y celulitis.
¡Cámbiame los vasos y los hombres!"
From the book Levente no.Yolayorkdominicanyork
Ay Ombe Theatre, Casa Verde Camila and Broadway Housing Communities present Levente no.Yolayorkdominicanyork. A Reading, with Josefina Báez, Friday March 9th,  6pm, at Rio Gallery II, 583 Riverside Dr. 7th floor (at 135th) Manhattan, NYC.
Levente no.Yolayorkdominicanyork, is Josefina Baez´s most recent book. The main character, Quisqueya Amada Taina Anaisa Altagracia Indiga, known as ¨La Kay¨ and ¨La Gorda¨, shares with us many of her building´s stories. This particular building is called El Ni e´. She keeps an actual blog (http://leventeno.blogspot.com/).
In the words of the 2008 Pulitzer Prize winner Junot Díaz: "Josefina Báez has been breaking open hearts and re-ordering minds for more years than I care to count. She is one of North America's finest artists and she is, without question, one of my favorite writers. She is a sword bathed in flame, she's a marvel. Levente no. Yolayorkdominicanyork is her finest work yet."
Miguel D. Mena, Dominican literary critic and Cielo Naranja´s editor states that "Levente no… " holds the highest state of hybridity reached in Dominican literature today¨
"Levente no. Yolayorkdominicanyork… is a text that deals with diffused borders. It dives into our dense social web with precision while exploring it. And this is its supporting base. Its dominicanness is expressed thru ¨good and bad¨ words¨, added Hortensia González from Casa Verde Camila.
Josefina Báez Josefina Baez is a performer, writer, theatre director, and educator. She is also the founder and director of Ay Ombe Theatre.
To find out more about Josefina Baez: http://about.me/josefinaBaezAyombeT
Adult language used in text. Book is written mainly in Spanish.
Also, check out:
New Junot Diaz Book To Be Released In September
What Dominican Independence Day Means | Remezcla
We invite you to like our Facebook page and follow us on Twitter, or e-mail us at UptownCollective@gmail.com.
[subscribe2]