By The Native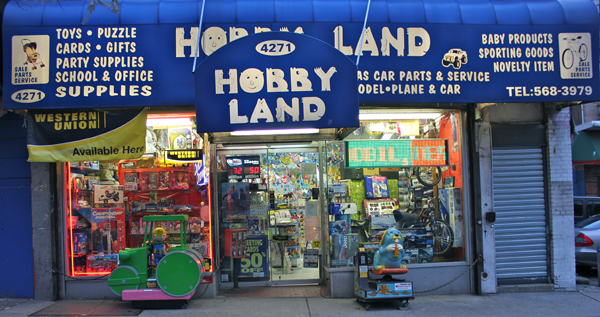 Meet Nostalgia, my long time friend.
He finds me at the most inopportune moments, when all I want to do is move on with my life and finally be a grownup.
But lo and behold, here he comes to remind me of – you got it – the past. So as I happened to come down the block on 184th toward Broadway, just trying to be grown and get to my destination, there is Nostalgia, standing across the street, in front of Hobby Land.
Dammit! I try dipping to the left, hoping he didn't see me. Too late! He yells out my name through the invisible air, and I have to stop and turn around. There he stands: waving, calling me over to the store. I try to fight the urge, I mumble to myself, ʻYou ain't no kid!
What the hell you doing going in there? It's not like you buyin' something for your nephew…wasting time. Uhuh, keep it up man. You're just repeating the same vicious cycle…' Ok, I had to shut myself up and do something before I cuss myself out in public, near the 34th police precinct. No bueno!
So I crossed the street and went into Hobby Land. The place had changed a bit since I last went in…maybe 20 years ago. For starters, since I'm taller, my view's definitely changed: I can see and touch the more expensive toys they keep on the top shelves. And the guy behind the counter is not Asian. He's South Asian (Indian to be exact). Hmm. I start looking for signs of anything I may remember, or at least look busy like I'm there buying toys for my nephew or my fictional kids.
Suddenly, I hear a faint whisper in my right ear. I could barely hear him, but either way Nostalgia gets my attention: the stationary section. Oddly, one of my first loves. This is where I looked for construction paper, mechanical pencils and black and white composition books.
Nostalgia whispers in my left ear, pulling my focus away and around to the next aisle. Here I find my second kid love, Legos. I walk to the varied theme boxes: Star Wars, Bionicle, Pirates of the Caribbean. I was wide-eyed and a bit slack jawed, the feeling of awe coming over me.
A breathy ʻwow' escapes, but it wasn't mine. Next to me, a foot and a inch down, was a kid, with the same look as me. His chubby fingers reaching out and touching the plastic window where you can see the Lego Luke Skywalker inspiring your inner Jedi to use the force. In the kid's case, that would be to "persuade mom to buy it for me." A man on the opposite end stood looking at both of us. The kid noticed, turned and slightly dropped his head, walking away with a little reality-check for his day dreaming. The man looked at me and asked,
"Need help?"
"Nah, just looking. Thanks…You know, I used to come here as a kid. I'm surprised that it's still here."
"Yeah. I used to work here years ago, then I came back. The owners used to be Korean. But they sold the store to the Indian guys about fifteen years ago."
He went about his security rounds, and I turned and went about my walk down memory lane. This last aisle I entered without the help of my friend Nostalgia. This was my main squeeze: models. Here, I felt like the kid grew up and the adult found their toy. For me, this was the essence of the hobby. I perused the shelves like a craftsman looking for the right model that would become my next project.
I was back in my element. As a kid, I found lots of joy and solace in building and painting models. You name it: cars, planes, ships etc etc…. I wanted to do the most difficult level of building and I wanted it to have the professional touch. I had my tools, my paints (Testor was my go-to colors). All I needed was a corner in my room and I was Michelangelo sculpting David.
This memory awoke in me like a flash of lightening. I was there again, the kid at his dreamland. I could've stayed there for eternity, or at least another hour. But the call of adulthood rang out like the screeching siren of a fire truck. I came back to reality and released a kid's sigh.
ʻPsst.'
I turned and noticed Nostalgia grinning at me. (You know, he looked alot like me when I was a kid…) I thanked him with a smile, took in a deep calming Life's Not That Bad breath, and walked out the doors. It's good to know there's still a place like Hobby Land in Washington Heights, just in case a barrio kid needs to daydream, no matter how old they are.
Check out: A View From The Heights: The Old Philosophers of McDonald's
We invite you to subscribe to the Uptown Love newsletter, like our Facebook page and follow us on Twitter, or e-mail us at [email protected].