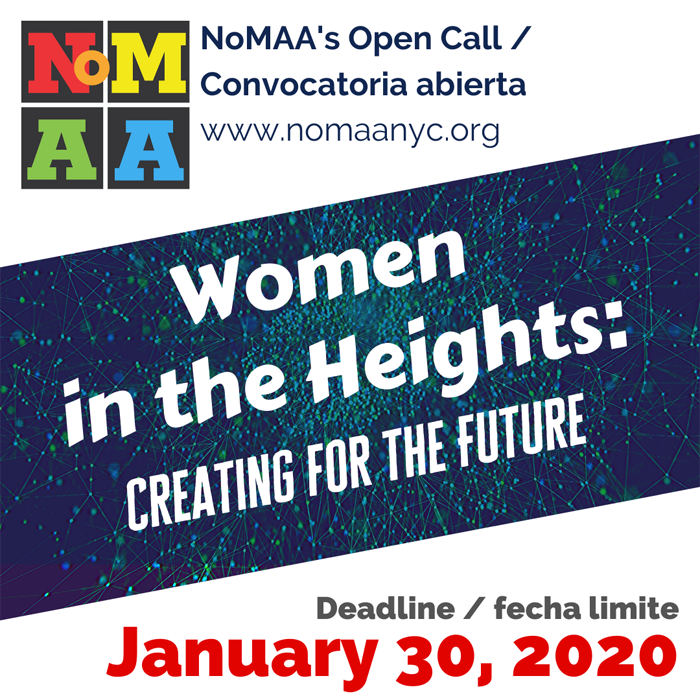 The Northern Manhattan Arts Alliance (NoMAA)
, in partnership with
Broadway Housing Communities
and
The Sugar Hill Children's Museum of Art & Storytelling
is seeking submissions for
"Women in the Heights: Creating for the Future"
.
March is Women's History Month
and women around the world are leading the way to a better future for all. This year, we invite artists to submit works that reflect and inspire empowerment and change.
The 10th anniversary of the Women in the Heights exhibition
will be held in a historic year in the USA, with the upcoming Presidential Election and the celebration of the Centennial of Women's Suffrage.
Eligibility:
Open to self-identified women artists working or residing in El Barrio, Inwood, Washington Heights or Harlem. Above 110th Street on the West Side (west of 5th Ave) and above 96th Street on the East Side (east of 5th Ave).
Wall-hung works
in all fine art media will be considered for the exhibit, maximum width of all artworks is 36" (including frame).
Written/spoken word works
(maximum 250 words) must be presented printed and framed as per framing guidelines.
Submission Deadline:
January 30, 2020
Delivery of accepted works at the Rio II Gallery

, 583 Riverside Drive (@ 135th Street): February 24 & 25, 10am-5pm

Opening Reception:

Thursday, March 5, 6-8pm

Exhibit dates:

March 5 – 31

Artist Talk, Workshop and Closing Reception: March 31

Pick-up of work:

After the closing March 31 or April 1-2
ACCEPTED WORK
(please read and follow the instructions carefully):
Participating artists must provide all of the requested materials by the dates indicated above.
All artwork must be ready to hang.

All artwork must be presented in a professional manner (including: professional-grade framing, matting and display materials.) All works must have hanging wire attached to the back (at least 2" below top edge of work,) no other hanging hardware will be accepted (The gallery has a railing system with rods and hooks, no picture hanging hooks or nails will be used on the walls).

All work must be labeled on the back with artist's name and title.

All artwork must be available for exhibition for the duration of the show.

Sales of artworks are not conducted by NoMAA. However, a price list will be available, and artists will be contacted directly by interested buyers. We suggest a donation of 15% of the sale to NoMAA to help sustain our gallery.

Images of the artwork may be used by NoMAA for promotion of the exhibit (for non-commercial purposes only).

Artists will be encouraged to participate in an artist talk.
Please note that Broadway Housing Communities has insurance coverage for the Rio II Gallery, 583 Riverside Drive. There is however no FINE ARTS insurance for individual pieces
.
We invite you to subscribe to the weekly Uptown Love newsletter, like our Facebook page and follow us on Twitter & Instagram or e-mail us at [email protected].