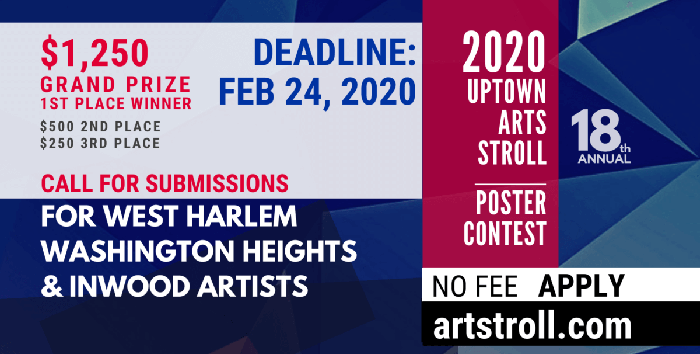 Once again it's on. Listen up familia NoMAA has put out the call for submissions for the 2020 Uptown Arts Stroll Poster Contest. This is a big deal for artists that make Uptown their home. Not only will you get your work in front of untold numbers of your Uptown peers but you will also receive a $1250 honorarium. That's right so make sure you bring your A Game and start submitting. You have until February 24, 2020.
2020 Uptown Art Stroll POSTER CONTEST
The 18th Uptown Arts Stroll, showcasing Washington Heights-Inwood & West Harlem's performing and visual artists, will take place throughout June 2020.
$1,250 Grand Prize 1st place winner / Gran premio ganador
$500 for 2nd place / 2do LUGAR
$250 for 3rd place / 3er LUGAR
CALL FOR SUBMISSIONS
Artists must be West Harlem, Washington Heights-Inwood residents (W135th to W155th St from Edgecombe Ave west to the Hudson River), W155th St to W220th St (river-to-river).
HISTORY
The 18th Uptown Arts Stroll / Paseo de las Artes in Washington Heights-Inwood and West Harlem and the World Premiere of "In The Heights The Movie" takes place Uptown next June. The Uptown Arts Stroll started as a volunteer driven one-day event the Sunday before Thanksgiving 2003 and has grown into a month-long festival celebrating Northern Manhattan's performing and visual artists. The Northern Manhattan Arts Alliance (NoMAA) has produced the Uptown Arts Stroll since 2008.
For more info: Call For Submissions: 2020 Uptown Arts Stroll Poster Contest
We invite you to subscribe to the weekly Uptown Love newsletter, like our Facebook page and follow us on Twitter & Instagram or e-mail us at [email protected].