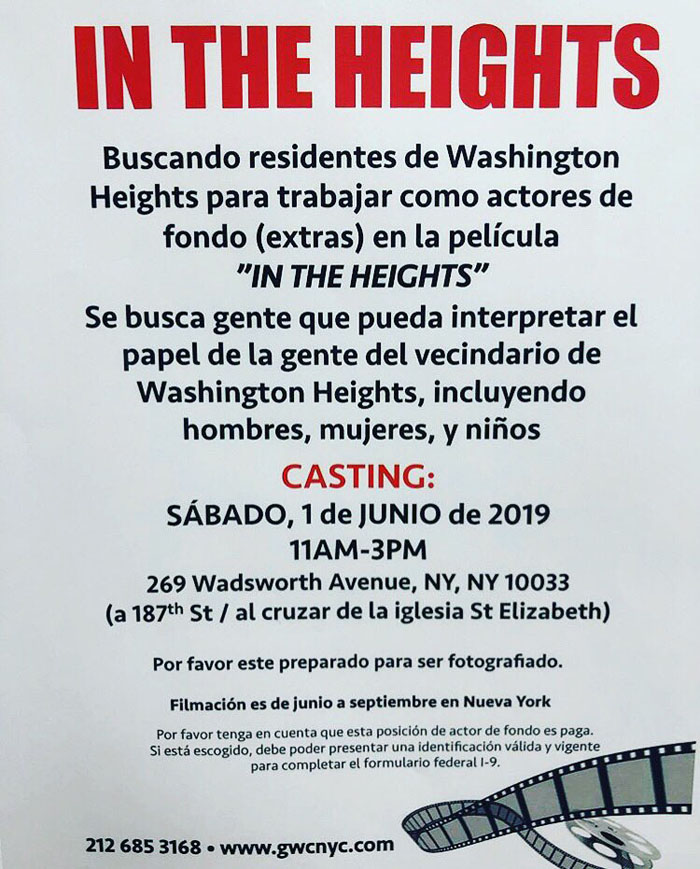 Grant Wilfley Casting is holding an open call for the feature film IN THE HEIGHTS. Seeking people to play Latino neighbors of Washington Heights. Open call will be held: Saturday, June 1 from 11a-3p at 269 Wadsworth Avenue (at 187th Street / across the street from St Elizabeth Church). Be prepared to have a digital photo taken. Filming June-September in NYC. SAG-AFTRA are welcome to attend, but this is a NonUnion open call. If you cannot attend the open call, see instruction below on how to submit.
Grant Wilfley Casting is seeking people to portray the following in the musical feature film IN THE HEIGHTS.
– Latino Washington Heights neighbors
– Latinos in bathing suits at the pool (please note if you can swim or are comfortable standing in 4ft deep water)
– Latino club goers dancing salsa (ages 20s-30s; no professional experience necessary, this is background work)
– Latino and African American basketball players (ages 20s-30s)
– Latino and African American soccer players (ages 20s-30s)
Filming begins in June in NYC. Email your name, union status (SAG-AFTRA or NonUnion), phone number, and current/recent photos to theheights@gwcnyc.com. If under 18, please note your age.
For more info: www.gwcnyc.com/
We invite you to subscribe to the weekly Uptown Love newsletter, like our Facebook page and follow us on Twitter & Instagram or e-mail us at UptownCollective@gmail.com.