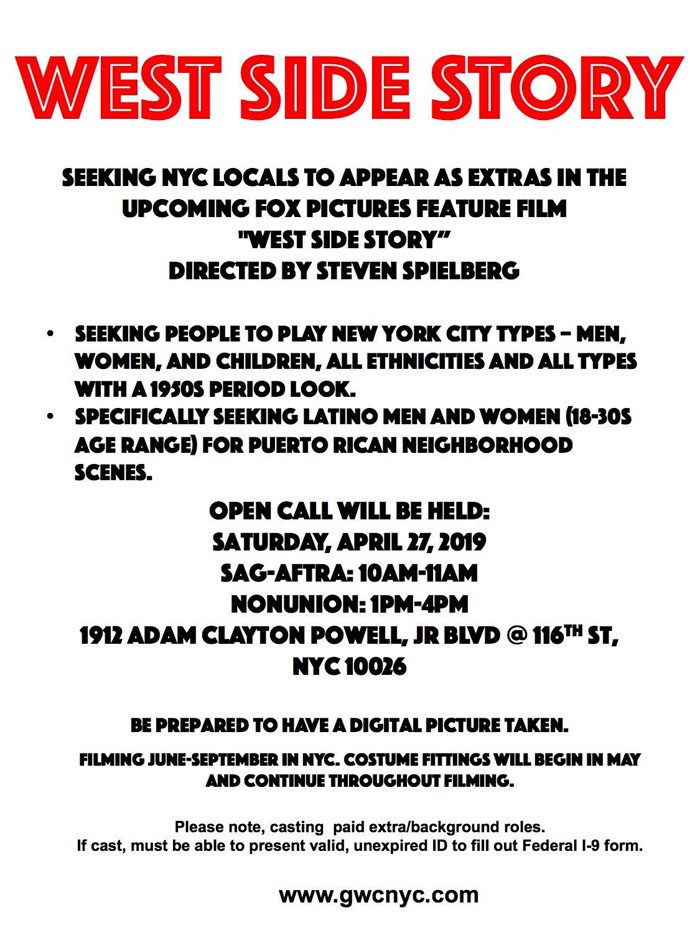 Grant Wilfley Casting is seeking NYC locals who are interested in working as extras on the upcoming Fox Pictures feature film WEST SIDE STORY, directed by Steven Spielberg, which will be filming in NYC June-September. Looking for men, women, and children, all ethnicities and all types, with a 1950s period look. Open Casting Call will be held from 1pm-4pm, Saturday, April 27 at First Corinthian Baptist Church, 1912 Adam Clayton Powell, Jr. Blvd., NYC 10026. No experience necessary. Be prepared to have a digital photo taken. This casting is for paid background/extra work. If you have one, bring your headshot & performance resume (not required). SAG-AFTRA members welcome to attend 10am-11am. If you cannot attend the open call, see submission instructions below.
Grant Wilfley Casting is seeking people to portray the following for the feature film WEST SIDE STORY:
– 1950s Latino men and women
– 1950s NYC types
Please email name, union status (SAG-AFTRA or NonUnion), phone number, height, weight, and clothing sizes, and current picture/snapshot to [email protected]. Write the role for which you are submitting in the subject line of your email.
For more info: Open Casting Call: West Side Story
We invite you to subscribe to the weekly Uptown Love newsletter, like our Facebook page and follow us on Twitter & Instagram or e-mail us at [email protected].