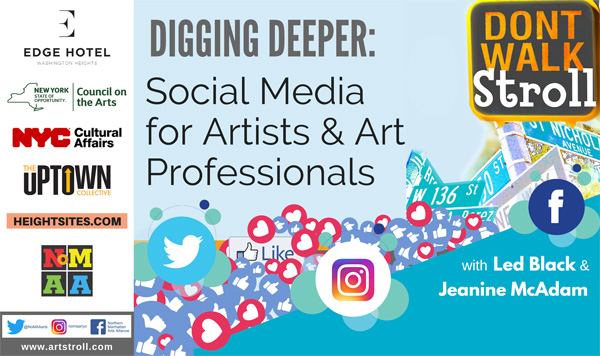 Join our founder and Editor-in-Chief Led Black and Jeanine McAdam for a workshop exploring the best practices to utilize social media for promotion.
This 2-hour workshop will start with a brief overview of Facebook,Twitter & Instagram. Then Q&A time will address general issues concerning these three major platforms, followed by one on one sessions with Led & Jeanine. Within the 10-minute breakout sessions, individual participants will have the opportunity to receive help with their specific social media accounts & campaigns.
This is a free event, and space is extremely limited. Please only RSVP if you are certain you will attend.
RSVP: 06/05/19: Digging Deeper: Social Media for Artists & Arts Professionals
Related: The Uptown Collective Presents The WHIN Social Media Guide
We invite you to subscribe to the weekly Uptown Love newsletter, like our Facebook page and follow us on Twitter & Instagram or e-mail us at [email protected].