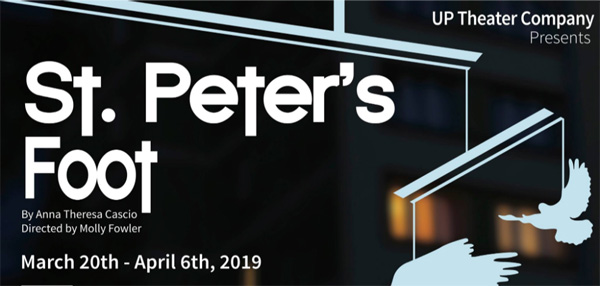 The good folks at the Up Theater Company have a new production afoot (pun intended). St. Peter's Foot opens today, March 20 and will run until April 6 at the Fort Washington Collegiate Church (729 W. 181st Street). St. Peter's Foot is a twisted tale of marriage, love, children and abortion. As usual if the Up Theater Company is behind it you know it will be good so get your tickets pronto.
For more info: https://stpetersfootup.brownpapertickets.com/
ST. PETER'S FOOT by Anna Theresa Cascio
Presented by UP Theater Company
Directed by Molly Fowler
March 20 – April 6
Wednesdays-Saturdays @ 8:00 PM
The Fellowship Hall at Fort Washington Collegiate Church
729 W 181st St.
New York, NY 10033
Featuring: Doc Dougherty and Laura Fois
Related:
We invite you to subscribe to the weekly Uptown Love newsletter, like our Facebook page and follow us on Twitter & Instagram or e-mail us at [email protected].