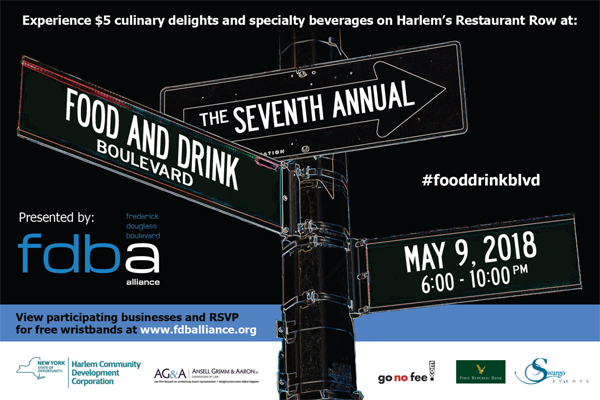 That's right people; the Seventh annual Food & Drink Boulevard goes down on Wednesday, May 9, 2018 from 6 to 10 pm along Harlem's Restaurant Row. Harlem Food & Drink Boulevard invites local residents and visitors to explore all the awesome restaurants and bars along the Frederick Douglass Boulevard corridor from 112th to 124th. This is an event you don't want to miss. You NEED to click below and get your wristbands. The wristband entitles you to $5 dollar appetizers and drinks at all of the participating establishments. Stock is super limited so please do yourself a favor and RSVP today! RSVP is mandatory to participate! Check in to pick up your wristbands will be tents located near Harlem Tavern on 116th and Fredrick Douglas Blvd and near Angel of Harlem located on 122nd & Fredrick Douglas Blvd.
Get Your Wristbands: http://www.fdballiance.org/
Participating establishments include: Silvana, Chocolat, Harlem Food Bar, Lido, Harlem Tavern, Hop House Harlem, LoLo's Seafood Shack, Row House, WXYZ Bar, Bier International, Moca, Angle of Harlem, Vinateria, RDV Rendezvous, Cafeine, Mess Hall, & 67 Orange Street.
We invite you to subscribe to the weekly Uptown Love newsletter, like our Facebook page and follow us on Twitter & Instagram or e-mail us at [email protected].