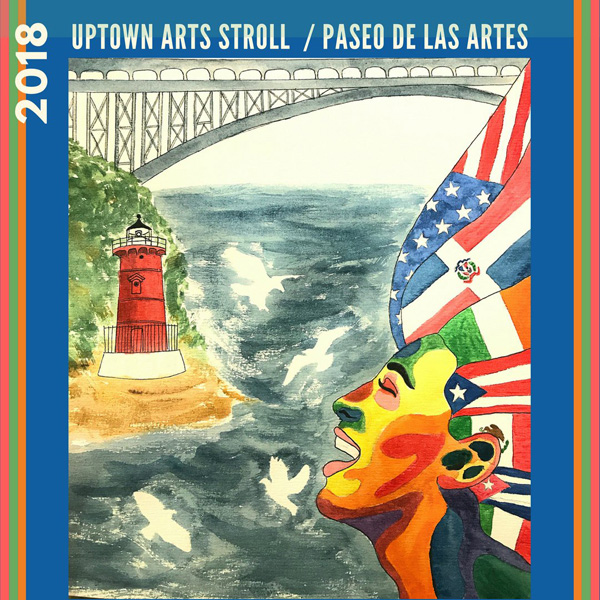 Studying abroad has not dimmed her uptown cred.
Miranda Spencer, currently an undergraduate student at the University of Bristol, United Kingdom, has won the 2018 Uptown Arts Stroll poster contest. The Inwood native's submission focused on the waterways unique to northern Manhattan and various elements of uptown's inclusive and diverse cultural scene.
Her work was chosen from among 32 entries from Washington Heights-Inwood and West Harlem artists for the sixteenth annual arts celebration hosted by the Northern Manhattan Arts Alliance (NoMAA).
"I have enjoyed the Stroll for as long as I can remember," said Spencer, who often explores Inwood Hill Park with her puppy Ajax when she's home.
She will receive a $1,000 honorarium and exclusive graphic representation on Uptown Arts Stroll publications. "It's an honor and pleasure to be able to contribute."
Read more: And The Winner Is… | Manhattan Times
The Stroll's opening event will take place on Wed., May 30th from 6:00-8:30 p.m. at the Sugar Hill Children's Museum of Art and Storytelling located at 898 St. Nicholas Avenue and West 155th Street.
We invite you to subscribe to the weekly Uptown Love newsletter, like our Facebook page and follow us on Twitter & Instagram or e-mail us at [email protected].